Top 10 Best Mixer Grinders In India 2023 : A mixer-grinder is the quintessential kitchen appliance found in almost all Indian kitchens. Given the variety of Indian food we prepare on daily basis, a mixer-grinder is a must not just for ease and comfort but also for the fact that it saves us from hours of intense physical labour and time. But buying the best mixer grinder in India is not so easy- a number of factors come into play when choosing the best mixie for your kitchen.
Certain compulsory features must be considered when buying a good mixie, while there are some specifications that may be overlooked. In this article, we take you through the country's best mixer-grinders and also help you with a buying guide so you can make an informed decision. Buying the best mixer grinder in India couldn't get easier than this! Some of the best deals for these kitchen appliances are available at Flipkart. Head on to Flipkart Offers page at our website to avail the best in discounts.
Top 10 Mixer Grinders In India 2023
10 Best Mixer Grinders In India 2023
1. Bajaj Rex 500-Watt Mixer Grinder with 3 Jars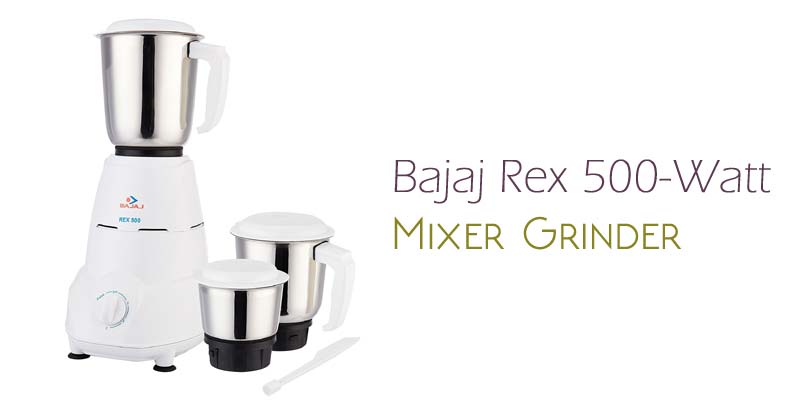 Bajaj is one brand that is known for quality, efficiency, and durability – three very important criteria when buying a mixer-grinder for your kitchen.
It has a 500-watt motor and comes with vacuum feet so that it does not slide when grinding heavy duty foodstuff
You can use Bajaj Rex Mixie for wet and dry grinding both.
The Rex 500W mixer grinder comes with 3 stainless steel, rustproof jars – a 1.2L liquidizing jar, a 0.8L dry grinding jar and a 0.3L chutney jar
It offers 3-speed controls and lets you choose the speed for various kinds of grinding jobs
It has an LED indicator to let you know when the appliance is powered on.
Comes with 1 year warranty
Although it has many positive reviews, the only downside is that it is quite a noisy mixie and may not suit all households
2. Philips HL7699/00 750-Watt Mixer Grinder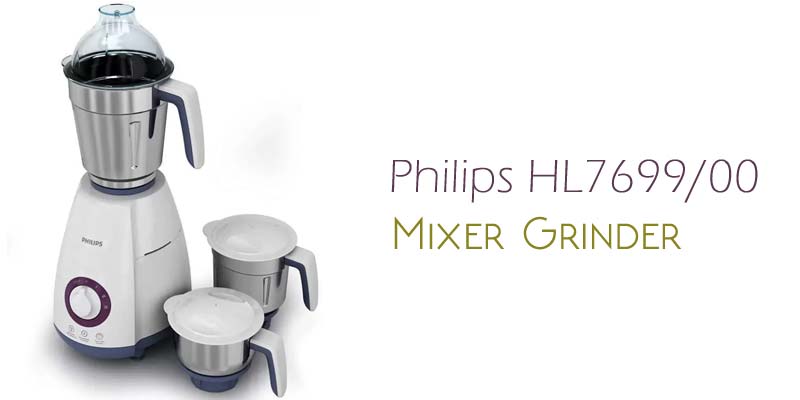 Sleek, efficient, powerful and durable – that's the Philips HL7699/00 750 Watt mixer grinder for you. The super stylish looks and the minimal maintenance makes it an indispensable asset in the kitchen.
Philips HL7699/00 750-Watt Mixer Grinder has a powerful 750-watt motor that makes grinding jobs easier and smooth.
It has 3 jars made of stainless steel and ABS plastic and leakproof technology with secure locking.
The jars have the capacities of 1.75L, 1L and 05 L
Comes with vacuum feet and auto cut-off feature that turns the mixer off when overloaded
Offers 3-speed settings and a separate feature for whipping ingredients
Suitable for heavy grinding tasks – both wet and dry
Comes with 2 years warranty.
Reviewers have been concerned with the jar handles so you may need to use them with care.
3. Morphy Richards Superb 500-Watt Mixer Grinder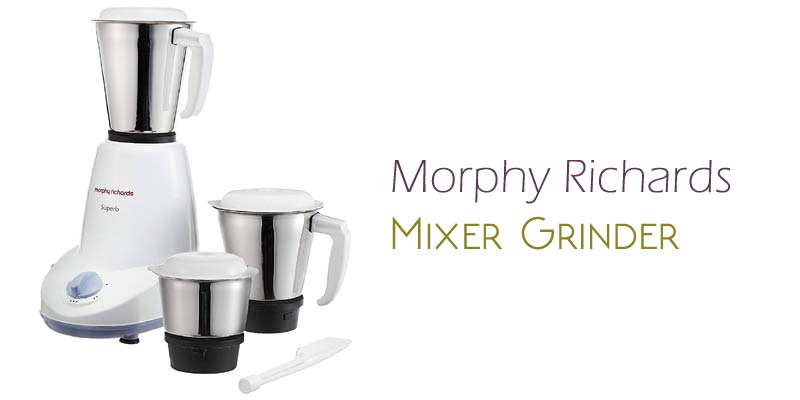 Morphy Richards is known to have a world class range of products and this mixer grinder from them is no different. Whether it is hard ingredients or soft ones, you can expect the same level of performance from Morphy Richards Superb 500-Watt Mixer Grinder.
Effortless grinding jobs with the Superb 500 – Watt motor
3 Jars mixer grinder with capacities 1.5 liter, 1 liter and 0.4 litre
It offers 3 speed function control with incher facility
It guarantees flawless functioning for 30 minutes at a go to complete intense grinding jobs with ease
The jars, handles, lids, blades, and the body are all made with superior quality materials and are ergonomically designed
Sleek and stylish looks and occupies minimal space in your kitchen
Comes with 2 years warranty on motor
Also has overload protection feature, safety locks
Weighs quite heavy and so you may not like to move it again and again.
4. Preethi Blue Leaf Diamond 750-Watt Mixer Grinder with 3 Jars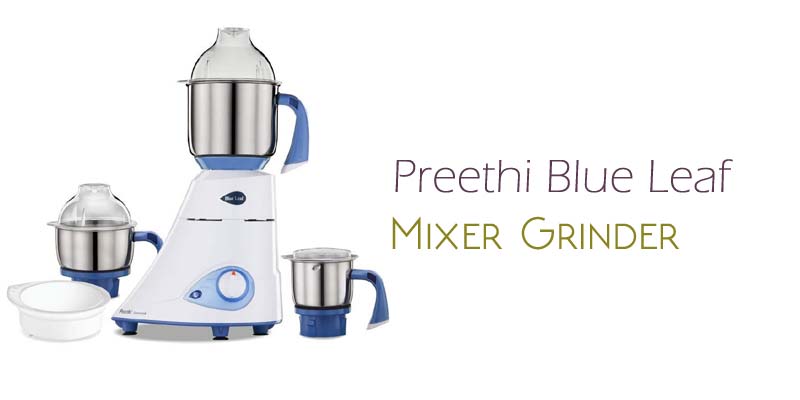 Preethi Blue Leaf Diamond 750 Watt Mixer Grinder is one of the best mixer-grinders in India. Quite popular for its rugged, robust, efficient mixing and grinding performances in Southern India, it is quickly gaining a foothold in North India as well.
Preethi blue leaf diamond mixer grinder has a powerful 750-watt inbuilt motor that takes care of grinding jobs very well
3 high precision stainless steel jar with a chutney jar and a flexi-lid
Polished and machine grounded blades to give you quick and efficient grinding performance
Operates at 3 variable speeds and has a pulse function as well
Shock proof ABS body to ensure your safety at all times
Comes with 2 years warranty
Highly reputable and trusted brand with the assurance of superior performance
A heavy model, you may prefer not moving it much.
5. Bajaj Twister 750-Watt Mixer Grinder with 3 Jars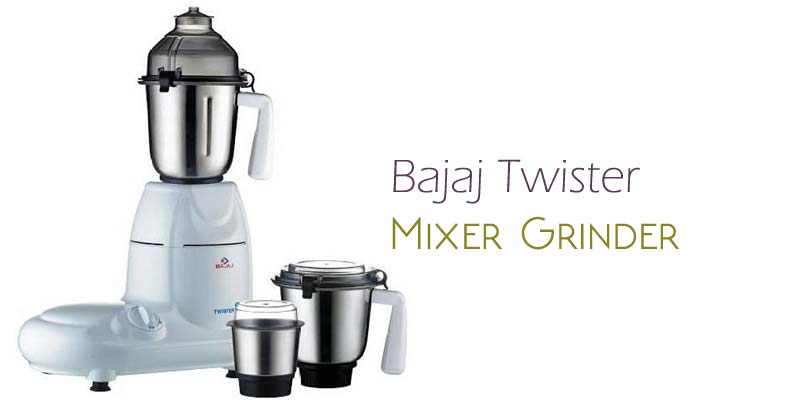 Another reliable and durable mixer grinder from Bajaj, Bajaj Twister can make heavy-duty tasks like mixing, whipping, mincing or grinding seem like a cool breeze. Rich aesthetics, multifunctional blade system, and a great value for money make Bajaj Twister a preferred mixer grinder in India.
Bajaj Twister comes loaded with a 750-watt motor and 18000 RPM figure that ensures smooth functioning at all times
You get 3 jars with capacities 1.5 litre (Liquidizing Jar), 1.0 litre (Dry Grind Jar) and the 0.3 litre (Chutney Jar).
The jars are made of stainless steel and come with dome-lids that can be locked when in use
Comes with an auto shut-off feature that turns the mixie off after completion of a task
Equipped with a motor overload protection system
It comes with a 5-year warranty on its motor and 2-year warranty on the product
Being a heavy duty mixer grinder, you may take some time getting used to the noise and the weight
6. Lifelong Power Pro LLMG02 500-Watt Mixer Grinder with 3 Jars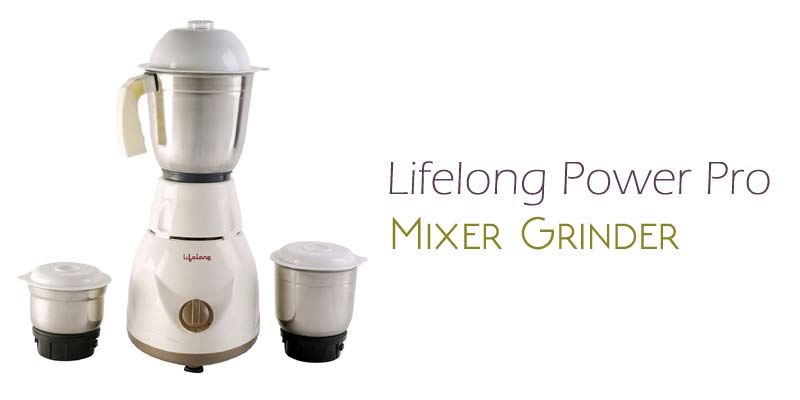 The bestselling mixer grinder in India is from the house of 25-year-old diversified Lifelong group. If you are looking to ease you kitchen tasks with superior juicing, mixing and grinding functions then you can consider this Lifelong Power Pro 500 Watt mixie without any doubt.
To dole out smooth pastes within seconds, it comes with a 500 Watt turbo motor
Can be used for both wet and dry grinding functions
Comes with 3 jars, 1.25L, 0.88L and 0.3L with extra tight PP lids to prevent spillage
3 speed setting with a whipping function.
Also has an incher for momentary operation
1 year warranty on product
7. Butterfly Smart 750-Watt Juicer Mixer Grinder with 4 Jar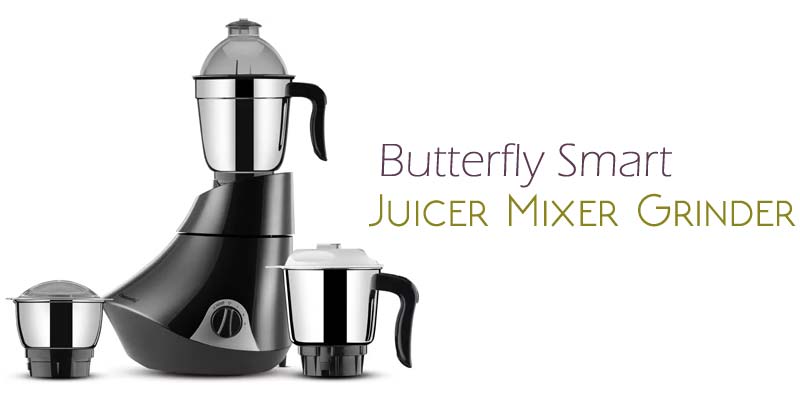 Looking to get a single mixie with the juicing function? You can consider Butterfly Smart 750 Watt Mixie with 4 jars on offer and a huge aesthetic appeal and sleek design. A value-for-money mixer grinder it is quite lightweight and can still carry the grinding, mixing, mincing and juicing tasks with ease.
You get the benefit of a juicer with Butterfly Smart 750 model
Comes with an efficient pusher that acts as an enveloping cap and also helps in releasing more juice from fruits
1.5 L juicer jar, and 3 other jars with capacities 1.5L, 0.75L and 0.4L
The jar handles are sturdy and strong and do not lose grip
Has razor-sharp blades have an RPM of 17000 – 20000 which precisely cuts, chops and mixes ingredients of any shapes or sizes
To prevent skidding, it comes with special vacuum rubber shoes
Automatic overload cut off facility and a beautiful 3-speed knob with a whipping function
Comes with 2 years warranty on the product
8. Panasonic MX-AC400 550-Watt Super Mixer Grinder with 4 Jars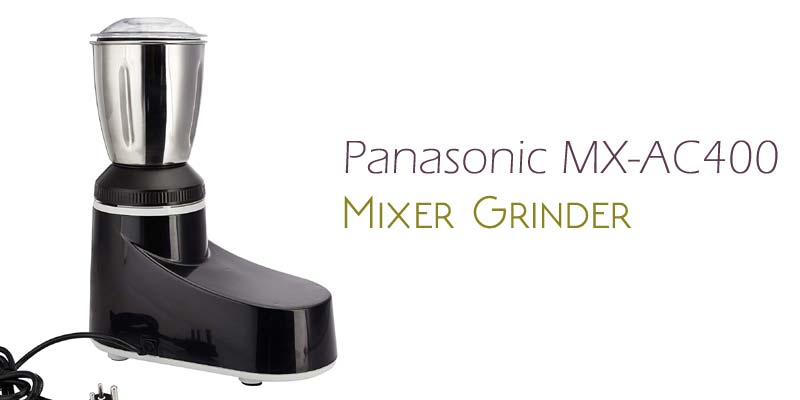 If you dislike the knob speed control function and prefer the piano type switches in an elegant design then Panasonic's MX-AC400 550-Watt Super Mixer Grinder with 4 Jars is an ideal choice.
powered by a 550W heavy-duty motor, the toughest ingredients can be easily grounded with this product
Comes with safety lid-locking system – the motor won't start until the lid is secured and locked
3-speed settings with a pulse button in a piano like a setup make it easy to regulate the speeds as per convenience
3 Stainless steel jars and 1 extremely durable blender jar will definitely make your life easy
Strong Samurai edge blades for that smooth paste-like consistency for toughest ingredients
Circuit breaker system that prevents motor exhaustion
2 years warranty on product and 5 years warranty on motor
9. Preethi Zodiac MG 218 750-Watt Mixer Grinder Juicer with 5 Jars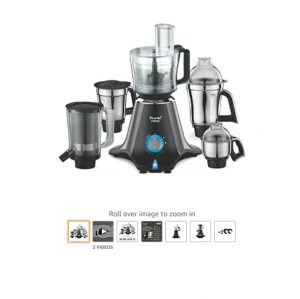 One of the best juicer-mixer-grinders that will take care of all your mincing, chopping, juicing, grinding, blending needs is Preethi's Zodiac MG 218. First mixer grinder in India that is ROHS compliant and has passed rigorous tests, look to invest in this one if you want a durable, high duty product with a long life.
Comes with a powerful Vega 5 Motor 750 Watt that can grind turmeric in just 2 minutes
Zodiac is the first Mixer Grinder to have 3-in-1 insta fresh juicer jar – One Jar which can do three functions – (1) Centrifugal juicer which can juice fresh fruits, (2) Super extractor which can extract tamarind essence of coconut milk (3) Blender which can make shakes and lassi.
Equipped with razor-sharp stainless steel blades for finest and fastest grinding and juicing performances
Also doubles up like a food processor- you can knead Aata and chop vegetables within minutes
Comes with 3-speed rotatory switch knob with incher
Sophisticatedly designed, it adds elegance to your kitchen
Comes with 5 years warranty on motor and 2 years on the product
10. Maharaja Whiteline Joy Turbo 750-Watt Mixer Grinder with 3 Jars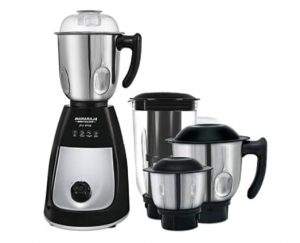 Maharaja Whiteline has been manufacturing superior kitchen appliances that are known for durability, style, and performance. The Joy Turbo 750-Watt Mixer Grinder from them is another example.
750-watt copper motor ensures smooth, fast and effective grinding results in no time
A compact design mixie with a lightweight construction
3 heavy-duty stainless steel jars with capacities 1.5L, 1.0L and 0.4L
Super-sharp stainless steel blades to give the best wet and dry grinding results
You can control the speeds 3 ways and you also get a pulse function
Anti-slip feet that make sure the mixer stays in place even when performing heavy-duty grinding jobs
5 Years Warranty on motor and 2 years on product
Now that you know the 10 best selling mixer grinders in India, let's take a quick look at some features you must absolutely consider before buying one.
Related Articles:-
How to Choose a Mixer Grinder?
Some factors that you must consider when buying a mixer grinder or a juicer mixer grinder are –
Wattage – Go for higher wattage motors if you intend to grind larger quantities frequently in one go
Rotations per minute (RPM) – The greater the RPM, the lesser time the blades will take to cut through the ingredients
Service – If a brand does not offer after sales service in your area, then it can create issues for you to get spare parts or repair done should the mixer malfunction at any time
Design – You can choose between the popular tower design or the L-shaped design basis the space you have in your kitchen
Safety aspects – Mixers that come with a lid-locking function fare better as the motor does not start unless the lid is secured. Moreover, give a thought to other safety features depending on who is going to use it.
Overloading protection feature – So that you dint exhaust the motor by overloading the contents in the jar, this is an essential feature to avoid motor damage.
While there are many reputed and local brands that offer mixer-grinders, it is generally seen that the buying decision is influenced by the models on display with the shopkeeper. This is where online shopping for the best mixer-grinder will help you where you can get many options to choose from at competitive prices.
Tags: Top 10 Best Mixer Grinders In India 2023, 10 Best Mixer Grinders In India 2023, Top 10 Mixer Grinders In India 2023, List of Top 10 Best Mixer Grinders In India 2023