Top 10 Best Humidifier Brands In India 2023 : Winters are pretty exciting because of the cool breezes and fresh air. As the days go on, you may experience dry skin, chapped lips, flu symptoms due to the cold weather conditions. A one-stop solution for these problems is to have Humidifiers at home.
Bringing humidifiers to the home improves overall health by deterring harmful chemicals and bad odors 20X-times faster than normal room conditions. It has impressive features like a water tank, cool/warm mist technology, and night vision mode to spread chillness and enhance indoor air quality. Adding up, it comes at affordable prices and consumes less power for smooth functioning.
However, choosing the best one can be tricky as you may come across different aspects like – type, room size, timer, humidistat, and price. We have analyzed hundreds of brands online and brought you the Top 10 Ultrasonic Humidifier Reviews to make things easy for you. Have a glimpse:-
Top 10 Humidifier Brands In India 2023
| | | | | |
| --- | --- | --- | --- | --- |
| Brands | Capacity | Run Time | Weight | Dimensions |
| Dr Recommends | 3.5 L | 30 hours | 1.39 Kgs | 6.5*5*30 cm |
| PRV ENTERPRISE | 220 ml | 5-10 hours | 190 g | 12.6*8.9*8.7 cm |
| Belloxi | 200 ml | 5-10 hours | 100 g | 10*5*5 cm |
| Lifelong | 3.5 L | 30 hours | 910 g | 9.5*16.5*29.5 cm |
| WIDEWINGS | 200 ml | 4 hours | 300 g | 13*13*10.5 cm |
| A 2 Z Aaradhya | 400 ml | 4-10 hours | 150 g | 10*5*5 cm |
| PRV ENTERPRISE Portable | 220 ml | 5-10 hours | 190 g | 10.8*10.7*10.5 cm |
| Dr Trust | 2 L | 12 hours | 1 Kgs | 24*19*25 cm |
| VCART | 300 | 4-10 hours | 340 g | 14*14*13 cm |
| AGARO | 500 ml | – | 411g | 16.7*16.7*14.6 cm |
10 Best Humidifier Brands In India 2023
1. Dr Recommends Humidifier
If you are looking for an affordable yet easy to use option, you should prefer buying the Dr. Recommend Humidifier. It has an impressive 30-hours runtime to use for small areas, i.e., baby rooms. With a single fill, it can improve the indoor humidity levels continuously for 12-hours.
The humidifier features an essential box at the back to add aromatic oils, which helps to boost the mood. You can adjust the mist levels to low, medium, and high depending on the indoor environment. With a long press for 5- seconds, you can access the night color lights and switch on/off when required.
Pros
Excellent night lighting feature
Low, medium, high mist level adjustments
Auto-shut off with timer settings
Stylish and ergonomic design
Suitable for people with dry skin, cracked lips, sinusitis
Cons
May find difficult to turn on the power button
Can damage after frequent usage
2. PRV ENTERPRISE Cool Mist Humidifiers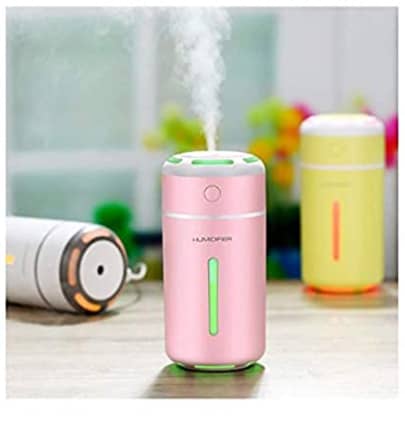 When it comes to unique designs and color options, nothing can match the PRV ENTERPRISE Humidifiers. This cool-mist model is perfect to use for cars, bedrooms, and offices due to the smart connectivity with USB ports.
The advanced ultrasonic technology performs a smooth operation without any distortion. The 220ml container distributes the cool mist evenly in a closed room to improve the breath. You can also add essential oils to the device to enjoy therapeutic benefits. Overall, it is worth investing in PRV ENTERPRISE Humidifiers.
Pros
Economical to buy
Best humidifier with fragrance diffuser for small areas
Cool mist and whisper quite technology
Suitable for cars, offices, and baby rooms
One-touch operation with cup design
Cons
Does not provide essential oil
Product quality can be better
3. Belloxi Portable Mini Wooden Air Humidifiers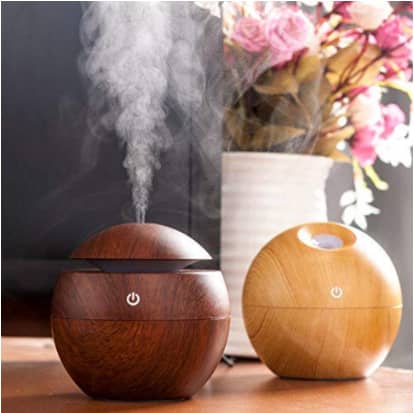 Do you live in low-humid areas and find difficulty breathing fresh air? Belloxi Portable Mini Humidifier solves your purpose. Belloxi offers a wide range of products like steamers, inflatable pillows, digital clocks, car vacuum cleaners, and more. They focus on introducing quality products that tend to enhance people's lifestyles.
Compared to other popular brands, it is made of a wooden outer surface for convenient usage and fits your purpose. Moreover, it comes at low prices too. It features ultrasonic technology that uses ultrasonic frequencies to convert water into a cool mist and improve surrounding air quality. You will also get a user manual that helps to install humidifiers at home and use them efficiently.
Pros
Portable mini humidifier for therapeutic benefits
Ultrasonic design ensures silent operation
Easy to read user manual
Perfect choice for living room and bedrooms
Reduces radiation and moisturizes the skin
Cons
No return policy
Stops working after sometime
4. Lifelong Top Fill Room Humidifier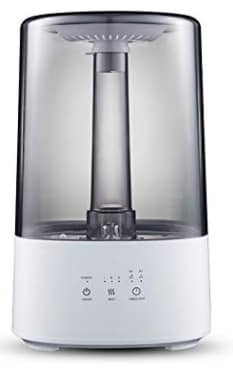 Keep your indoor environment pathogen-free with the help of Lifelong Humidifier. It has a 3.5liter tank capacity that lets you enjoy the fresh mist. The top filled water design and water level window make the device simple and easy to operate. You can add essential oil in a separate aroma box to boost the mood. It is advised not to add it to the water tank as it can damage the product quickly and produce bad odors.
Once the device runs out of water, it will turn off automatically using the auto shut-off feature. Adding up, the manufacturer offers a 1-year warranty on the product from the date of purchase. So, you don't have to spend extra on repair costs.
Pros
Simple and convenient to use
1-year of manufacturing warranty
Timer and 7-color lighting modes
Spreads cool mist for 30-hours
User manual with step-by-step instructions
Cons
Leakage of water from the tank
Auto power-off feature damages quickly
5. WIDEWINGS 2 in 1 Moon Lamp Cool Humidifier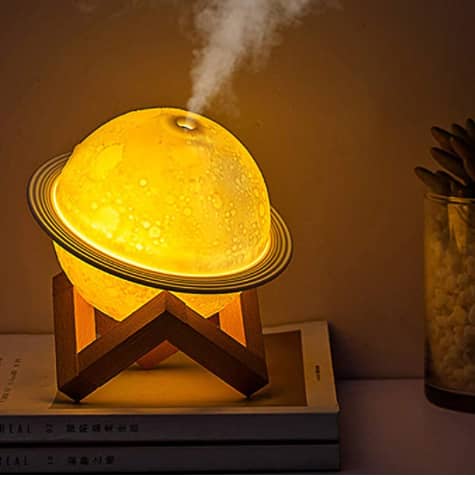 Who doesn't love to have compelling design humidifiers? Whether it is for home, office, hospitals. Outdoor plants and commercial places, WIDEWINGS 2 in 1 Humidifier is the right choice.
This fantastic product is crafted using durable ABS, PP, and silicon materials in a planet-shaped design for an appealing look to its customers. Depending on the surrounding air quality, you can switch to continuous and intermittent spraying modes. It is available in 3 light modes – warm, white, and yellow to choose from for offering restful sleep. It uses 2.5W power and spreads the mist at a rate of 30-50ml/h in a closed space.
Pros
Made of durable plastic material
Continuous and intermittent spraying modes
2 in 1 diffuser with LED light
3 night modes- white, yellow, and warm
Suitable for kids and parents
Cons
Experience damp smell at home
6. A 2 Z Aaradhya Portable Room Humidifier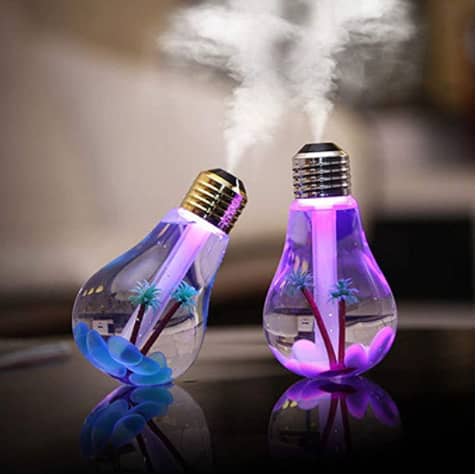 During hot summer months, you may experience skin irritation and other allergies. To overcome this problem, you need to have A 2 Z Aaradhya Portable Humidifier. As the name suggests, it can easily be placed in multiple locations effortlessly.
No battery is required! Simply add water along with aromatic perfume into the device. Now plug-in the device using a USB cable and switch on the power supply. Within a couple of minutes, you will start enjoying purified air, making it suitable for. In a nutshell, it is considered as one of the best-rated portable humidifiers in 2022.
Pros
Lightweight and durable nature
Prevents from overheating issues
USB interfaced power supply
Deters bad odors and dust
Auto-shut off features ensures safety
Cons
Requires regular maintenance
7. PRV ENTERPRISE Portable Mini Wooden Air Humidifier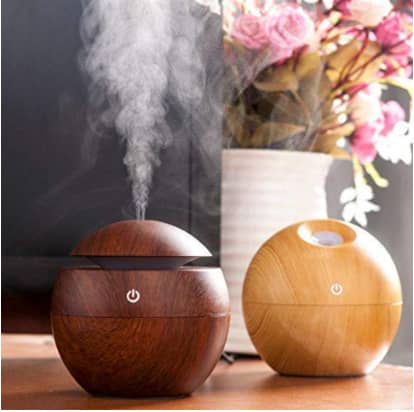 Have you ever imagined the integration of nanotechnology to purify the air? Well, it is possible with the PRV ENTERPRISE Portable Humidifier. This advanced technology atomizes the water into molecules and fine mist for easy breathing. Moreover, this PRV ENTERPRISE portable mini humidifier is a bit affordable too.
With the help of ultrasonic vibration, it can humidify the car interiors and bedrooms. It is a perfect blend of ergonomic design and BPA-free ABS plastic material to meet your end requirements. Wrapping up, it works at a low noise level of 36dB to ensure you sleep comfortably in a pleasant environment.
Pros
Made of silicone and polycarbonate materials
Lightweight and stylish design
Does not emit harmful radiations
USB-powered humidifier for home and office
Cons
Consumes more power
No return and refund policies
8. Dr Trust Luxury Cool Mist Dolphin Humidifier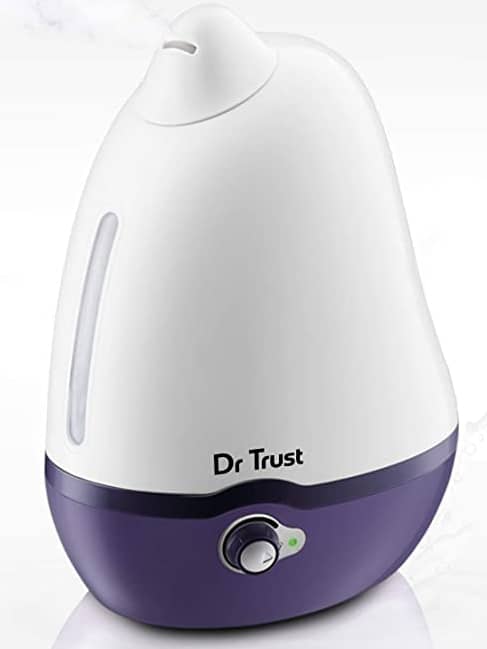 Do not let your hot humid conditions damage your skin. Grab Dr. Trust Cool Mist Humidifier. This amazing product makes use of electronic frequencies to break the large quantities of water into tiny molecules. It can effectively spread the cool breeze into the air and kills harmful bacteria as well.
You do not have to worry about the burns as it does not produce excess heat from the device. Moreover, it can effectively treat itching, throat, asthma, cold, etc. It is highly safe for babies as it makes use of noiseless high-frequency oscillations. To recapitulate, it offers top-notch performance to the end users.
Pros
Corded electric type humidifier for babies and adults
Adoptive ultrasonic technology
Moisturized dry and chapped skin in winter months
1-year of extended warranty services
Cons
Do not add aroma oil
Not convenient for large spaces
9. VCART Home Decorative Mini Humidifier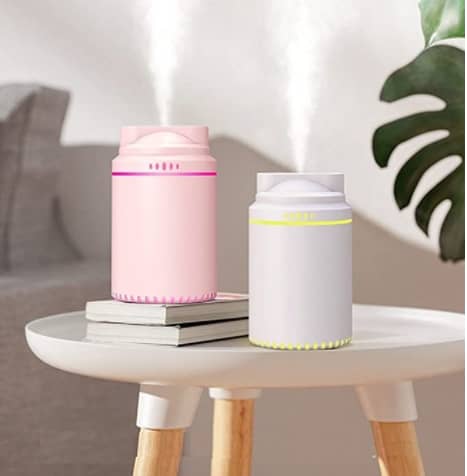 With a temperature drop in the room, indoor plants like succulents may dry due to soil retention. Having a VCART Mini Humidifier can boost growth and prolong its lifespan. Besides, it also manufactures baby toys without compromising the quality.
If you are unsure about the usage, fill the cup with water and place the filter above it. Now plug in the device with a USB port and turn on the power supply. You can enjoy using the device in the summer and winter months to breathe fresh air. It also incorporates night light with 7 color-changing options to give an aesthetic look to the living space.
Pros
Comes at cheap prices
Features internal filter and a cup
Improves indoor air quality for breathing
USB port and On/Off power switch
Multi-color night lights for elegant look
Cons
Design can be much better
Lack of smart features
10. AGARO VIBE 550 ml Adult/Baby Humidifier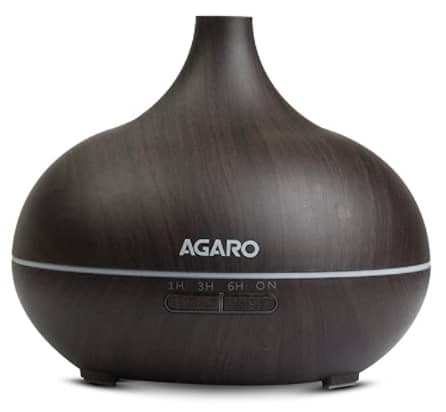 AGARO is a fast-thriving company in India by transforming innovative ideas in crafting home and kitchen appliances, healthcare devices. One such innovation from the list of their amazing products is the humidifier.
The Ultrasonic technology breaks the water down into micro-particles to penetrate into the skin layer. Pre-set timer function allows the users to adjust the mist speed as per the requirement. The 550ml water tank capacity can cover upto 45 sq.ft in a room. You will surely love the ambient light options in red, pink, blue, green colors to add at night.
Pros
Made of Acrylonitrile Butadiene Styrene material
Spreads up to 45sq.mts in a room
Pre-set timer functionality
Treats dry skin, and cold
Noiseless operation ensures peaceful sleep
Cons
Can damage quickly
Not suitable for commercial places
Related Articles:-
How to Buy Humidifiers for Home and Offices
Humidifiers add moisture into the air for myriad benefits. But, buying can be messy unless you don't know the operation of the device. You need to consider a few parameters like types, filters, noise level, timer, indicators, display unit, etc. Here we have provided detailed information on the humidifier buying guide. Read on to know how the key factors benefit in improving indoor air quality.
Different Types of Humidifiers
Humidifier types are classified based on functionality like Cool Mist and Warm Mist. Let's discuss each in detail now.
Cool Mist
Cool mist is a popular choice nowadays as people tend to have clean and well-humid conditions in a room. They come with a refillable water tank and blower fan to set the indoor environment cool and hygienic. It disperses mist at normal temperature, which is ideal for covering large area rooms and consumes less electricity too.
Benefits
Rejuvenates your skin
Highly energy-efficient
Treats respiratory and other lung diseases
Drawbacks
Produces little noise
Accumulates dust and debris
Warm Mist
The working of warm mist vaporizers is that it first boils the water and then releases steam into the atmosphere. Further, you can also add medicated inhalants and essential oils to reduce coughs, allergies, and other infections. It uses more power than cool mist because of the heating functionality.
Benefits
Works at high-speed settings
Spread pure moisture into the air
Helps to reduce cough, cold, and allergies
Drawbacks
Consumes more energy
Can cover only small areas
Room Size
Size of the room is yet another important factor you need to consider before purchasing online. Ideally speaking, the indoor humidity should be 30-50%. But if you don't maintain the proper humid levels, there are more chances of damaging your overall health.
Adding up, the size of the humidifier determines the size of the room. So make the best choice from the array of options that are convenient to use, highly efficient, and generates less noise. Here I've categorized the list by comparing Room Size Vs. Humidifier Size. Have a look!
| | |
| --- | --- |
| Room Size (Sq.ft) | Size of Humidifier |
| 300 | Small |
| 300-500 | Medium |
| 500-1000 | Large |
| 1000+ | Extra-Large |
Small Room (300 Sq.ft)
If you want to use small rooms (say 300 sq.ft), you can go with the small portable humidifiers rather than investing in expensive devices. Make sure the device is in good working condition before you make a purchase.
Medium Size Room (300-500 Sq.ft)
Are you looking for a device that can spread the humidity within a range of 300-500 sq.ft, then medium-sized humidifiers will be the best choice. They usually come with a small tank that has to be refilled daily but covers the entire room.
Large Room (500-1000 Sq.ft)
Console-type humidifiers are mostly preferred for large rooms that range from 500-1000 sq.ft. They can easily be switched between the rooms and produce sufficient amounts of moisture levels using ultrasonic technology. Most people prefer to buy this product because it delivers little noise and comes within the budget range.
Extra Large Room (Above 1000 Sq.ft)
If you're living in an area of more than 1000 sq.ft, go with the extra-large humidifiers. They come in a bulk design and blow out the moisture at every corner of the house. It generates distortion due to the continuous running of motors and also comes at high prices.
Noise Interference
To place a humidifier in the bedroom, you must also consider noise interference. In most cases, the noise is high, but as per the standards, the sound emitted should be less for peaceful sleep. The warm mist type produces less noise than the cool mist because it doesn't feature a fan. You can also prefer ultrasonic humidifiers as they don't produce noise due to whisper technology. If you're sensitive to noise, make sure to get a diffuser that will boost the mood.
Water Tank Capacity
Without a water tank, it's impossible to spread the moisture into the atmosphere. The tank with a larger capacity can last for 24-36 hours, and small ones can withstand up to 2-6 hours. It's up to an individual to choose the capacity of the water tank as per his room conditions. Also, remember that if you prefer small water tanks, you must refill 2-3 times a day which can be annoying for some people. For them, it's better to go for a diffuser that features a large tank to last longer and enjoy the freshness in a room.
Easy to Clean
The key to maintaining the humidifier in good condition is to keep it simple and clean. To achieve the best results, drain, rinse and dry the device every day. You can use vinegar solution or bleach by following the instructions given by the product manufacturer.
Price and Warranty Details
Finally, we end up with a buying guide with price and warranty details. The cost of the humidifier may vary from Rs1,000/- to Rs20,000/- depending on the brand, model, type, and features. So it's important to choose the best one according to your home requirements.
If you spend more on branded models, there are more chances that it can last longer even if used regularly. Otherwise, choosing the low-budget models do perform well but cannot withstand for a long time, and also you need to change the filters frequently. Besides the pricing factor, you should also look at the warranty to minimize the repairing costs.
Final Thoughts
Unlike other home appliances, Humidifiers are essential to maintain a hygienic indoor environment. However, choosing the right one will contribute to healthy living as you may come across several factors like type, water tank, cool mist or ultrasonic technology, coverage area, etc. You can also refer to the budgeted steamers for treating cold and cough for instant relief.
Further, if you've any queries, please share with us in the comment section given below. We're happy to clarify your doubts as soon as possible.
Tags: Top 10 Best Humidifier Brands In India 2023, 10 Best Humidifier Brands In India 2023, Top 10 Humidifier Brands In India 2023, List of Top 10 Best Humidifier Brands In India 2023