Top 10 Best Cat Foods In India 2023 : Cats have a love and hate relationship with everything. Food is no exception! So what's the best food for your cat? You might get some answers here. Keep reading.
For ages, we've been believing that cats love to drink milk. And that was also true. But we can't say the same anymore. Some cats literally smell the milk and walk away (one of the thousands of mysteries of a cat). The classic cat walk!
They need nutritious food and we ought to provide it. After all, pets are family, sometimes more specifically sons and daughters. And hey, walking all day in pride needs energy, huh! You gotta give that to the cats. Meow
So your cute little buddy who nudges you while you are deep in sleep, and climbs all over you, literally and metaphorically, still deserves to be treated better. I mean, just look at them.
"I hate to be asking food from these unworthy people who don't even deserve me at their house who I am just tolerating because they fill my dish, and clean my ****."
Ouch!!! That hurt Snowbell.
I have no disgrace for non-cat lovers (ahem ahem) but if you are not one, there's all the probability in the world that you own a cat. Or does it own you? That's a different debate which we'll get into later.
Okay, just to settle this one, if you have a cute little furry animal with whiskers and a tail, not a rat, a cat, then this article is for you.
All we're doing today is listing down the 10 best cat foods in India. Cuz, why not!
Top 10 Cat Foods In India 2023
10 Best Cat Foods In India 2023
1. Drools Dry Cat Food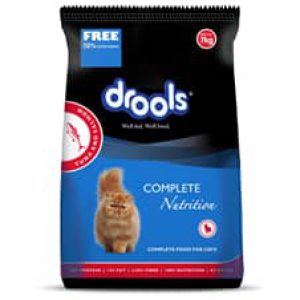 Proteins – 32%
Fat – 2%
Fibre – 2.5%
The food is Tuna and Salmon based which are one of the favourite foods of a cat. Packed in a bright coloured bag, it contains the nutrients that your cat needs.
It is a dry cat food which has advantages over its wet alternatives. Dry cat food is odourless and also can be stored for a long period of time. It is cost-effective and creates less mess. So that's less cleaning later.
Drools' food is rich in carbohydrates as well which is good for the overall growth of the cat. Its protein content makes sure that cats get the strength they need. It can be easily used as a daily food for cats and is one of the tastiest foods to eat.
This particular food is suitable for adult cats (who're older than 1 year).
Suitability: Adults (1+ year)
Quantity: 7 kgs (20% extra)
2. Royal Canin Persian Chicken Pellet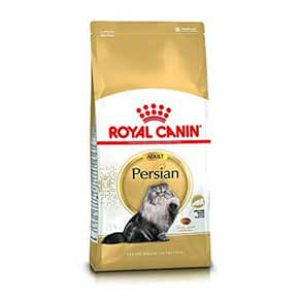 Protein – 30%
Fat – 22%
Fibre – 4.7%
Pamper your Persian cat with love and affection. Reach their hearts by feeding them the Royal Canin Cat food specialised for Persian cats. The food provides cats with the necessary strength and energy needed to carry out their everyday routine.
This cat food helps with long hair growth. Cats swallow hairballs often while licking their feet and the body. But this food will help reduce that too.
It is tasty food and also helps with digestive performance so your cats don't trouble you with dropping the stinky stuff all over the house. The kibbles (grains) have an ovular shape which your cat would swallow conveniently.
Suitability: Adult cats
Quantity: 2 kg
3. Meat Up Kitten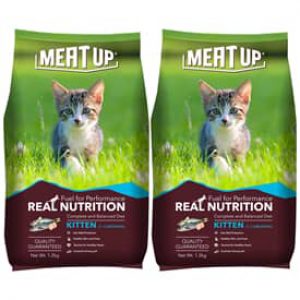 It is an ocean fish based food so your cats will like that. It provides them with the essential nutrients for growth and development. Moreover, it is also a healthy choice as it helps with better skin and hairball reduction.
The nutrients present in them make them great for the heart and eyesight. It also controls the pH content in the cat urine.
This one contains all factors of a balanced diet that will provide your kitten with the energy needed for growth.
The kibbles are crunchy. The contents include Mackerel and Sardine.
Suitability: Kittens (1 to 12 months)
Quantity: 1.2 kg (Buy 1 Get 1)
4. Me-O Tuna Cat Food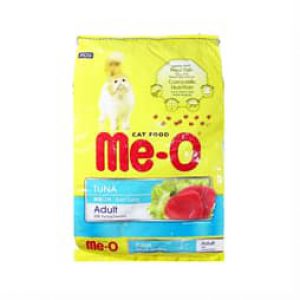 Crude Fiber: 4%
Crude Protein: 30%
Crude Fat: 9%
Me-O Tuna is all-natural canned cat food for adult cats. It's made with real fish. The omega fatty acids from the fish is a vital supplement for a healthy heart. At the same time, the food will provide your furry friend with the multivitamins they need so your cat plays without getting tired.
It also helps with pH control in the urine and is a balanced meal for cats.
The cats will get the essential nutrients that are critical to maintaining good health.
The food provides your cat with great health and is easily digestible. Keep diseases away by simply choosing this cat food. It is easily available in pet stores too.
Suitability: Adults
Quantity: 7 kgs
5. Whiskas Adult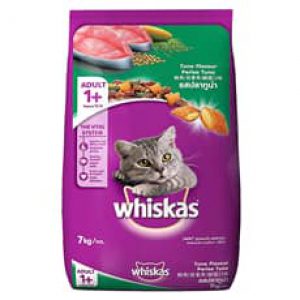 Protein: 32%
Crude Fat: 14%
Crude Fibre: 4%
Whiskas is one of the famous brands available out there for cat foods. This one provides your cat with the essential nutrients and amino acids to help them be active and energetic all day long.
It can be digested well. Moreover, the food helps cats with a smoother and shinier coat, by providing Omega 3 and 6 fatty acids and zinc.
Its vitamin A content will help your cats' eyesight.
It's a dry food consisting of Tuna fish. One of the favorites of cats.
Suitability: Adult
Quantity: 7 kg (contains 308 total meals)
6. Purepet Tuna and Salmon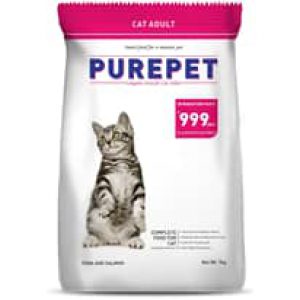 Made with all natural ingredients, the Purpet food for cats provides your cat with the essential vitamins, minerals and the amino acids. It helps the cat with growing long and shiny hair, and also eases their digestive tract.
The other benefits of this cat food includes hairball reduction, pH control in the urine,. The taurine content in the cat food also helps with heart health for your cats.
The food is derived from Tuna and Salmon fish.
Suitability: Adult cats
Quantity: 7 kgs
7. Drools Kitten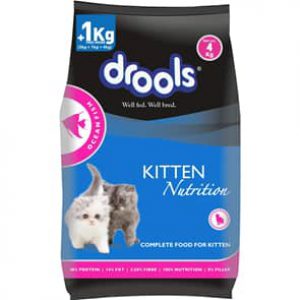 Protein: 34%
Fat: 14%
Fibre: 2.5%
The nutritional requirements for kittens are extremely particular. They need the right nutrients for good growth of muscles, bones and even hair formation.
The Drools cat food contains the essential nutrients required for kittens. It also helps with good weight gain and activeness in the cats. With Drools cat food, which is derived from ocean fish, in their bowls, your cat won't get tired of playing for hours.
It's a dry cat food derived from ocean fish.
Suitability: Kittens
Quantity: 4 kgs
8. Whiskas Kitten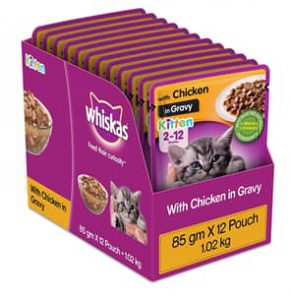 Another leading brand Whiskas has food for your kittens. It promotes overall growth in the kittens by providing them with leg strength. It is very important to impart the same into cats at the right age to ensure proper growth.
The food is derived from ocean fish flavour and also has milk in it stuffed in each kibble. If you want to give your kitten the goodness of the food and milk without having any mess made, this one is the best for you.
It helps with bone and body development by providing Ca, Ph, and Vitamin D. At the same time it helps improve the immune system of the kittens by providing the natural antioxidants through Vitamin E.
Suitability: Kittens (2 to 23 months)
Quantity: 3 kg (54 total meals)
9. Whiskas Kitten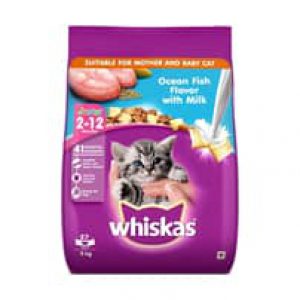 This wet cat food is specially good for the urinary tract of the cats. Other than that it also provides many nutrients your cat needs. It is soft and gravy-like made from chicken. Don't worry about mixing it with anything else. Just serve it on a plate to your cat and watch her enjoy the food.
But don't watch too much, as they might give you a side-eye.
Suitability: Kittens (2 to 12 months)
Quantity: 12 pouches (85 gms each)
10. Sheeba Rich Premium Cat Food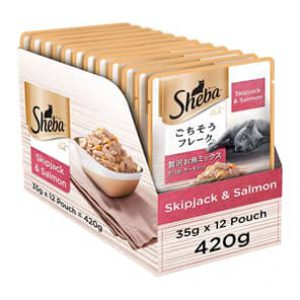 Protein: 10%
Moisture: 80%
Kcal: 20 kcal/35 gms
This food derived from turkey provides your cat with the optimum nutrients that they need. It is great for cats that have an allergy to grains. It is a grain-free food that you can serve by mixing in dry cat food.
This comes with its many advantages like strength building properties, aid with skin, coat and hair. It also has the essential fibre for your cat which will help her with digestion and keep her healthy.
It has a Skipjack and Salmon flavour that your cat will love.
Your cat gets the vitamins, protein, zinc, amino acids from the food which will keep them active, and energised for the entire day.
Suitability: Adult cats
Quantity: 12 pouches of 35 gms
Conclusion
You can choose from a variety of cat food brands in India, but the one thing you need to look for is the quality. Many of the cat foods out there are highly processed and don't contain enough nutrition for your cat's health. If you want to make sure that your cat gets a high-quality diet, make sure that you do some research on what kind of ingredients they use in their products. Or just use the above list to get started.
Related Articles:-
Tags: Top 10 Best Cat Foods In India 2023, 10 Best Cat Foods In India 2023, Top 10 Cat Foods In India 2023, List of Top 10 Best Cat Foods In India 2023