Top 10 Best UPS for Wi-Fi Routers & Desktop PCs In India 2022 : Your Wi-Fi might be able to deliver top speeds to several devices at once. You might even have the fastest PC on the planet, but a lack of protection against power cuts can cause you a heap of problems. India is a developing country where you might face power cuts on a regular basis, so installing a UPS for your Wi-Fi and computer device is a very good idea. A UPS protects your devices from a host of dangers, like data loss and surge protection, to name a few.
Why use a UPS for your Wi-Fi and PC?
When it comes to why you should own a UPS, here are the reasons:
Protects your PC from data loss.
Protects against volatile power supply.
It provides power surge protection.
It acts as a power backup during a power cut.
Top 10 UPS for Wi-Fi Routers & Desktop PCs In India 2022
So here is a list of the best desktop PC UPS available on Amazon.
| | | | | |
| --- | --- | --- | --- | --- |
| S No. | Brand | Model Number | Warranty | PC/Wi-Fi |
| 1. | APC | BVX1200LI-IN | 1 year | PC |
| 2. | Artis | 600VA | 2 years | PC |
| 3. | APC | BS1100C-IN | 1 year | PC/Wi-Fi |
| 4. | Zebronics | ZEB-U775 | 1 year | PC |
| 5. | APC | BR1000G | 1 year | PC/Wi-Fi |
| 6. | Microtek | Legend 650 | 2 years | PC |
| 7. | APC | BS600C-IN | 2 years | PC/Wi-Fi |
| 8. | Cuzor | Cuzor 12V and up to 2A | 1 year | Wi-Fi |
| 9. | RESONATE | CRU12V2A | 1 year | Wi-Fi |
| 10. | APC | BVX900LI-IN | 2 years | Wi-Fi |
10 Best UPS for Wi-Fi Routers & Desktop PCs In India 2022
1. APC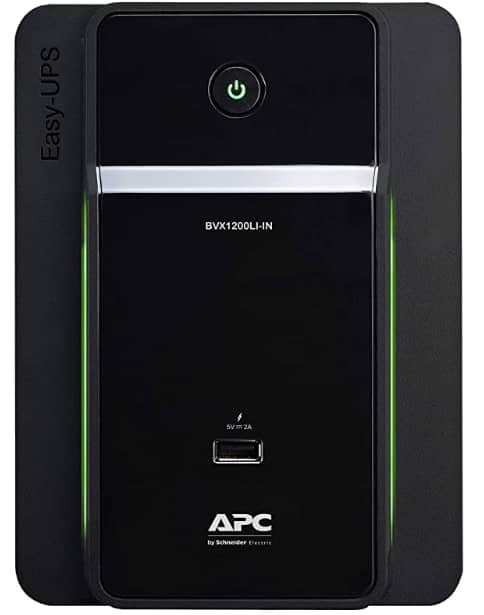 Check Price on Amazon
The first one to make it to the list is APC (BVX1200LI-IN), manufactured by Schneider Electric. This UPS has seen 96% positive reviews from its customers. This 650-watt UPS is ideal for your desktop computer as well as other electronic devices such as cellphones, earphones, smartwatches, and more. With green led lights and sleek design, this product appeals to a lot of gamers and heavy PC users as well.
This APC UPS gives you 6 ports to plug in your devices, and it manages to successfully protect those devices from power cuts, and the AVR system protects against power fluctuations. Additionally, you get the option to switch off the LED lights and mute the power cut alarm in the UPS.
Why should you buy it?
LED light indicators.
6 plug-in ports.
Automatic voltage regulator.
Quick mute function.
2. Artis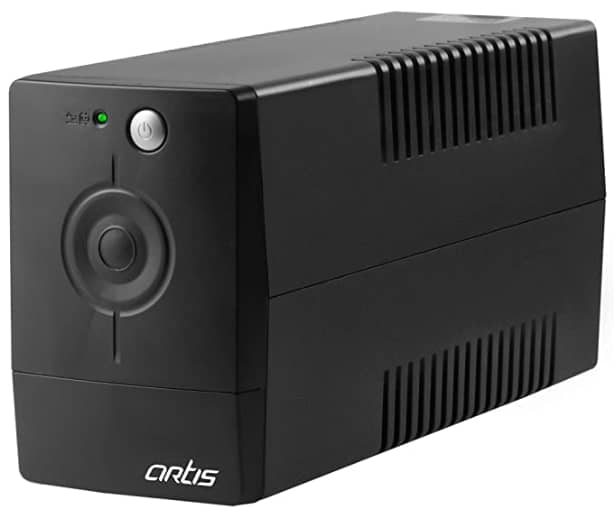 Check Price on Amazon
This beautifully designed product is both compact and lightweight. I know this is the list of UPS devices for PC, but this UPS has a micro load detector so you can connect your Wi-Fi router to it as well. With a maximum of 40 mins of power backup, this UPS is ideal for all sorts of devices, from computers to your smartphones. The only drawback is that it only supports any 3 devices at once.
The inbuilt AVR helps it successfully regulate electricity constantly, and to further assure you the product is BIS certified and has a heavy-duty 7AH battery. According to the reviews, the UPS has 2-4 milliseconds of transfer time, so you can expect instant feedback from the UPS.
Why should you buy it?
Great power backup time.
It has a great heavy-duty battery.
It has a micro load detector, so you can connect your WI-Fi as well.
Lightweight and compact size.
3. APC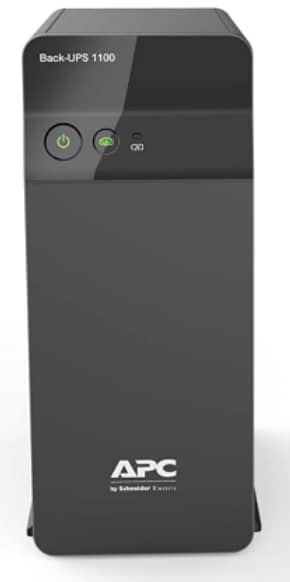 Check Price on Amazon
Is your old UPS smart? If not let me introduce this UPS from APC, it doesn't just have smart charging for longer battery life, it also conducts regular checkups on the battery and notifies you about its condition. This UPS has battery power backup and a surge protector for the safety of your devices at all times. The UPS comes with five plugin ports for five different devices and one of them has a surge protection feature.
Apart from protecting your devices against power disruptions, it has a 45 minutes power backup. And in case you were not convinced it's smart enough, the UPS sends you an advanced notification about battery failure so you can take maintenance precautions early.
Why should you buy it?
Its self-testing function makes your life a lot easier.
It has a nice LED display which shows the current condition of the UPS.
It has BIS certification.
Its fast charging ensures longer battery life.
4. Zebronics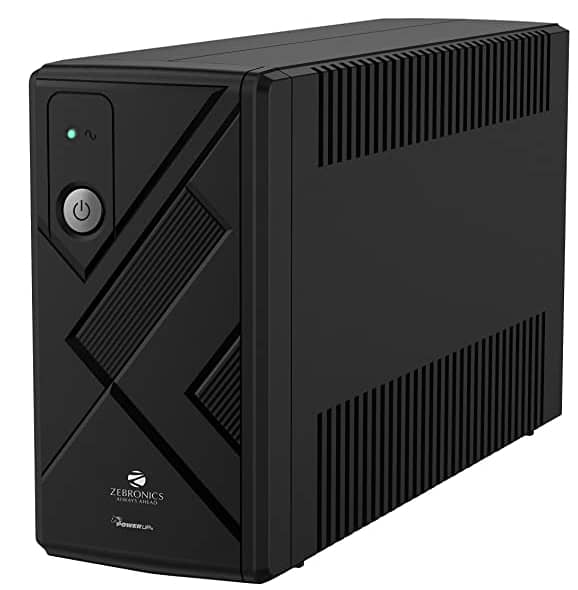 Check Price on Amazon
Up next is the ZEB-U775 from Zebronics. This 360-watt UPS takes around 4-6 hours to completely charge when you plug it in for the first time. This UPS consistently provides about 30 mins of battery backup to any three devices at once. Even though it does not support Wi-Fi routers, it's still a pretty great deal in this price range. Additional features you get in this UPS are overload protection, sleep mode charging, LED and audible alarms, and automatic voltage regulation.
If you were looking for a UPS that you can hook with your generator, then this UPS can do the job. The AVR system installed in this UPS makes sure all your devices get enough juice constantly. Additionally, this UPS is a great budget-friendly idea for your computer, phone, etc.
Why should you buy it?
It provides overload protection to all connected devices.
It is very affordable, considering the features.
It is compatible with a generator.
It has LED light indicators and an audible alarm.
5. APC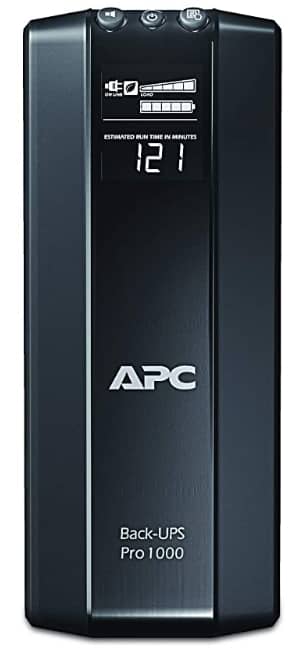 Check Price on Amazon
You know it's a great company when there is a third UPS from the same company, the next one is BR1000G from APC. Similar to the other UPSs from them, it provides high-performance power backup. It is optimised to defend your electronic devices against erratic disruption and ensures quality and an uninterrupted power supply to all the connected devices. The LCD display makes it easier to keep track of the performance and power delivery of the UPS at all times.
It comes with 6 power input ports, four of which provide battery backup and surge protection, and the other two only provide surge protection. So forget about just connecting your PC and Wi-Fi. With this UPS you can also connect your TV, AC and other appliances and protect them against fluctuations.
Why should you buy it?
It has an energy-saving feature that can save you cost.
It can be considered a smart UPS, because of all the features.
You can get access to more security features when connecting your PC to the UPS through USB.
You can easily reset the circuit board for servicing.
Simple battery replacement.
6. Microtek Legend 650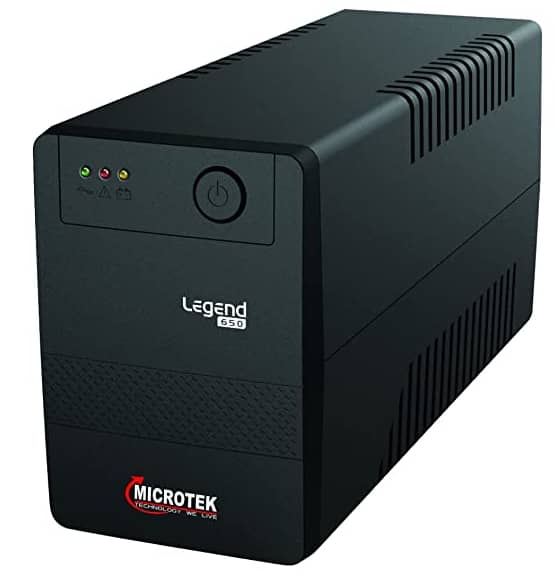 Check Price on Amazon
This 650-watt compact UPS is powered by a microprocessor that ensures high reliability with maximum protection. This generator compatible UPS is best suited for desktop PCs. With a minimalistic design, it will fit in any corner without taking up too much space.
This very affordable UPS has boost and buck AVR so you don't have to worry about fluctuating power supply, and its sleep mode charging helps maintain the battery's health. Additionally, this product comes with three plug-in ports that support power backup and AVR.
Why should you buy it?
It has a boost and buck AVR.
Overload protection.
It is compatible with a generator.
Off-mode charging helps maintain battery health.
7. APC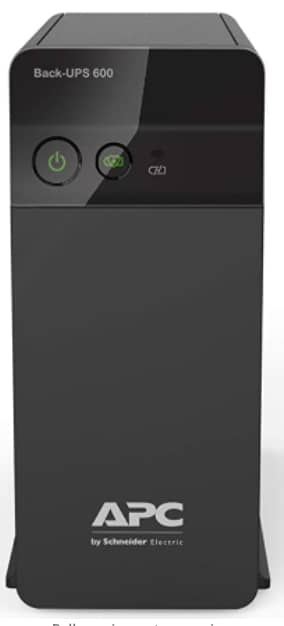 Check Price on Amazon
The next UPS on the list is BS600C from APC. If you were looking to buy something like the APC BR1000G but did not have the budget, then this one is the perfect alternative. The BS600C comes with 3 battery backup and surge-protected outlets and is suitable for PCs, televisions, Wi-Fi routers and other electronic appliances. Similar to its bigger version, this UPS also comes with smart features for your convenience.
This BIS certified and RoHS compliance UPS is reliable and efficient for regular usage and protects your devices from surges and fluctuations easily. Additionally, it also inherits the LED display and audio alarm from its bigger version.
Why should you buy it?
Smart battery management.
BIS & RoHS certified.
Battery backup and surge protection.
Environmentally friendly.
Here is a list of UPS for Wi-Fi routers, and in case you are looking for the best router to maximise performance. We have a list for that too.
8. Cuzor 12V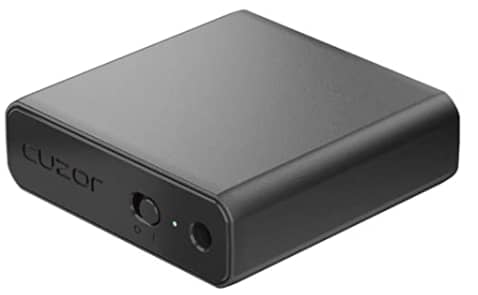 Check Price on Amazon
The first product on the list is a result of the make in India movement. Cuzor 12V is a compact and efficient UPS device for your Wi-Fi router. During the pandemic, the work from home culture has taken off and Cuzor mini UPS provides the exact solution for the Indian power cut problem. This mini UPS provides power to the router during power cuts, so you can access the internet without interruptions.
Regular UPSs are not designed for Wi-Fi routers, as the power consumption for routers is minimal and most times can not be detected by the UPS. So this mini router UPS comes fitted with the tech to solve this problem. Additionally, it supports all the router brands and provides 3-4 hours of battery backup for your router.
Why should you buy it?
It supports all router brands.
It's compact and very lightweight.
Great design.
3-4 hours of battery backup for your router.
Zero lag switching(switches to battery power in no time).
9. RESONATE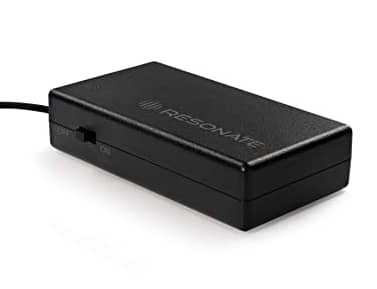 Check Price on Amazon
Were you in an online meeting? And the power just went off!
Whether you are working from home or just playing video games online, power cuts can become your arch-enemy and cause you a lot of inconveniences. So to make your lives a little easier here is a product from RESONATE. It's compact and lightweight. This UPS comes in three variations which are:
With an easy to set up guide, this UPS provides up to 4 hours of battery backup for your router. Additionally, it has a sleek design and will fit behind your router easily.
Why should you buy it?
The battery management system increases the battery's shelf life.
Rechargeable Lithium-ion batteries are included with the router.
Up to 4 hours of battery back up.
Compact and lightweight design.
Easy installation and intelligent charging.
10. APC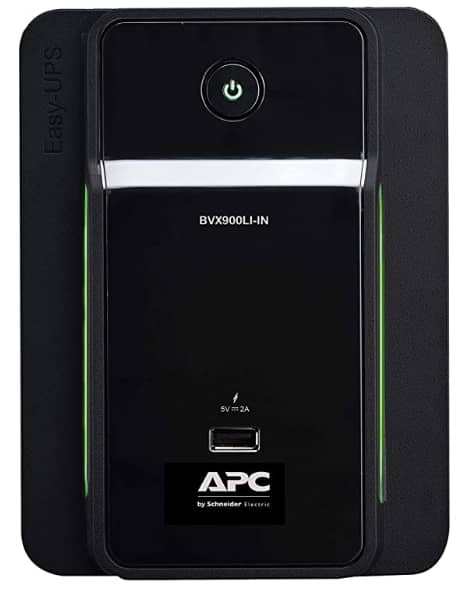 Check Price on Amazon
Yes, this is the fifth entry from APC. They have made some excellent products and people seem to like them as well. This UPS is best suited for smaller devices like your phone, Wi-Fi routers, etc. Even though it's not loaded with features, the UPS is reliable and efficient. With AVR functionality and a great battery backup, it lets you stay connected to the internet during power cuts.
With its compact design, it won't take up much space in any setup and it will definitely improve your experience online. Additionally, the UPS comes with four power outlets for four separate devices.
Why should you buy it?
Its compact size helps it fit anywhere.
Quick mute and led lights.
Great colour and design.
Good power backup.
Chances are you will come across a lot of options while choosing a UPS for yourself. You have 2 opinions. First, buy the first thing you saw. Second, buy one that supports both PC and router. I hope this list helped you select your new UPS.
Tags: Top 10 Best UPS for Wi-Fi Routers & Desktop PCs In India 2022, Top 10 Best UPS for Wi-Fi Routers In India 2022, Top 10 Best UPS for Desktop PCs In India 2022