Top 10 Best Mini Refrigerator (Fridges) In India 2022 : Because purchasing a mini-fridge is a long-term investment, one must ensure that they are purchasing the best product that fulfils their needs. To receive the best product, one must conduct thorough research, which may take some time and effort on their part. So, to make everyone's life a little easier, this article will go through the best mini refrigerator options on the market. So everyone can make the best decision possible without having to waste time researching every product they come across. Additionally, this article will cover the best and most innovative options, as well as their features and other pertinent information.
Here is the list of the best mini fridges that your money can buy.
Top 10 Mini Refrigerator (Fridges) In India 2022
10 Best Mini Refrigerator (Fridges) In India 2022
1. Kelvinator Mini Refrigerator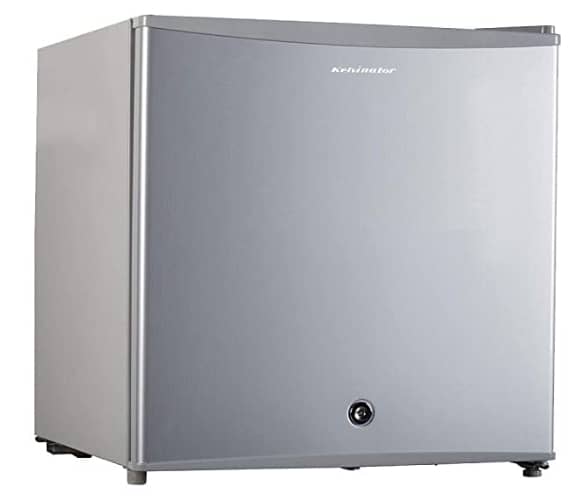 Kelvinator mini refrigerator is not just eco-friendly but performs very well in the Indian climate. And its lightweight design makes it perfect for people on the go, its many removable parts make it easy to clean and hygienic. The silver matt finish attracts a lot of attention and could become a conversation starter with your guests. Even though it does not have a freezer, it does provide a special chiller section where you can store a few items. Additionally, it keeps the interior fungus free and clean.
What we liked
Reversible doors
It keeps the interior fungus free.
This portable fridge provides great bottle holders.
Stabiliser-free and eco-friendly.
2. Leonard USA 115 L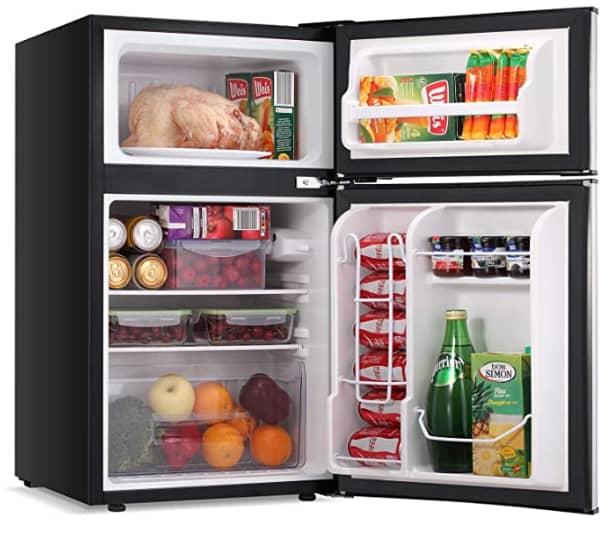 Up next is Leonard 115 L. It literally looks like a mini version of a large refrigerator. With 2 doors just like a normal fridge, it can freeze and cool your food very efficiently. From the build quality to its technology, everything screams durability and a long-lasting product. Its virtual steel finish makes it fingerprint resistant and leaves it looking beautiful all the time. You won't find this feature in a lot of other products in this price range, an antifungal gasket that stops the build-up of fungi inside the small refrigerator.
One thing you should know is that this is not manufactured in India. The manufacturer of this product is from the United States and that's why it comes ready to use and does not require any installation from the manufacturer. Additionally, it is equipped with tech to support the highly fluctuating power connections in India.
What we liked
Its silent operation makes it perfect for every room.
It looks and feels premium.
Higher capacity.
3. Hisense 93 L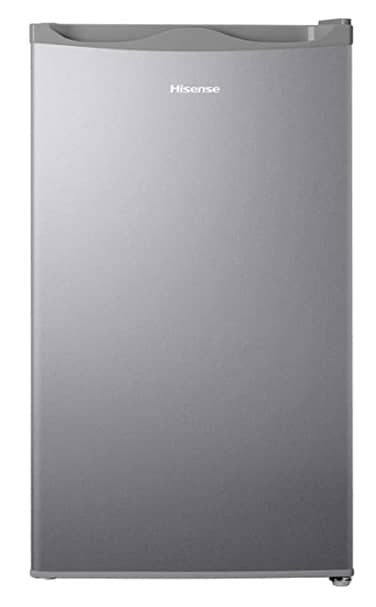 With a classy design and expertly crafted body, Hisense 93 L is up next. With a height of 44.2 cm, it makes for an excellent alternative to large refrigerators. Hisense is known for its unique design, be it televisions or refrigerators, you can trust their years of expertise. Similarly, their 93 L small-size fridge is loaded with features that will definitely entice you into buying one. Equipped with bottle bins, glass shelves, and a vegetable box that can accommodate plenty of items at the same time. This portable fridge also provides you with a separate freezing compartment to store meat, ice cream, and other frozen food products. Additionally, it also comes equipped with safety glass shelves, which provide extra safety against breakage, as this material is far stronger than the standard plastic ones.
What we liked
Regardless of its size, the mini-fridge size felt spacious.
You get a separate freeze section.
Adjustable temperature control.
Reversible door.
Safety glass shelves.
It is very aesthetically pleasing.
4. Hisense Mini fridge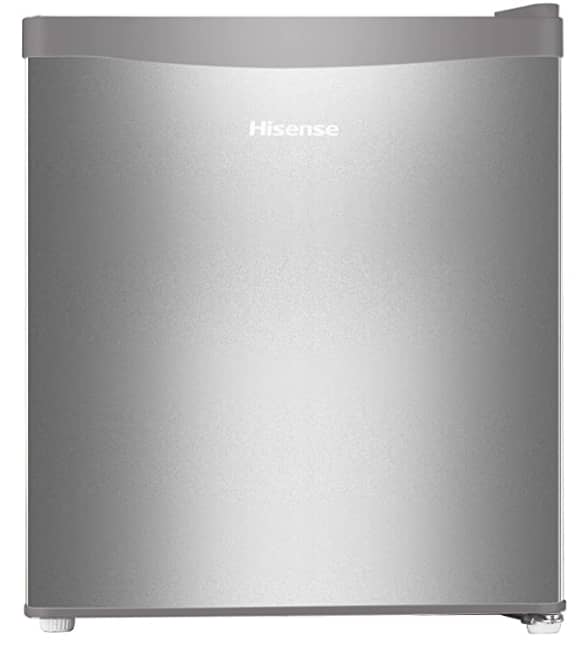 The next one to make it on the list is Hisense, with its 44 L mini-refrigerator. It comes in a glossy silver finish and would become a beautiful part of your home decor. With its premium design and amazing aesthetics, it should definitely catch your eye.
Similar to most, it has a single door with direct cool technology. Given the mini-fridge size and 44 L capacity, this is one of the most economical mini-fridge that your precious money can buy. This fridge might look smaller than other refrigerators, but it is designed to carry a lot of items inside with ease. It is fitted with a bottle bin that can hold multiple 2-litre bottles and a wire shelf for other small items.
Have you heard of the term "size does not matter"? Well, it literally does not. Regardless of the size, the chiller zone in the mini-fridge makes sure you get perfectly chilled items all the time. Equipped with a reversible door, now forget about opening the door only from one side. This mini fridge lets you open it from either side.
What we liked
It has a solid build quality.
The design felt very premium.
Fits perfectly in small spaces.
Good price range
Great cooling
5. AmazonBasics 43 L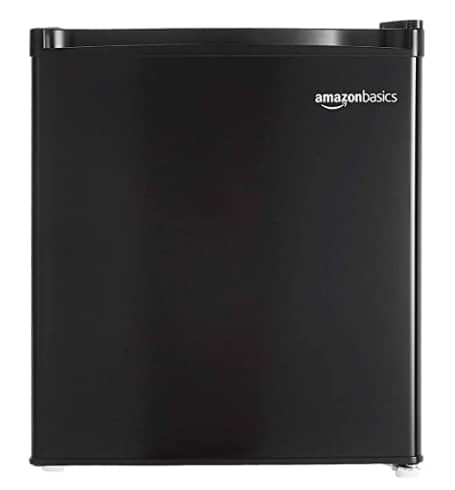 If you are looking for something budget-friendly and efficient, there is no better option than Amazon basic's 43 litres small size fridge with a 2-star energy efficiency rating. AmazonBasics has offered a wide range of products in the Indian market in recent years that seem to be well received. Amazon also offers a 10 days replacement option in case there is an issue with your particular product.
Its single door and simple design will help it fit into any home, restaurant, or retail outlet. What sets it apart from other products is its features, which many brands avoid putting into this mini refrigerator price range. Additionally, this product comes ready to use and does not require any installation from the company's side.
What we liked
It has a sturdy build.
This product has a separate freezer compartment for meat, ice cream and other frozen food.
8 temperature settings for all sorts of food products.
Adjustable feet.
Reversible door.
Detachable metal shelves.
It's very easy to clean and maintain.
6. Godrej 30 L H2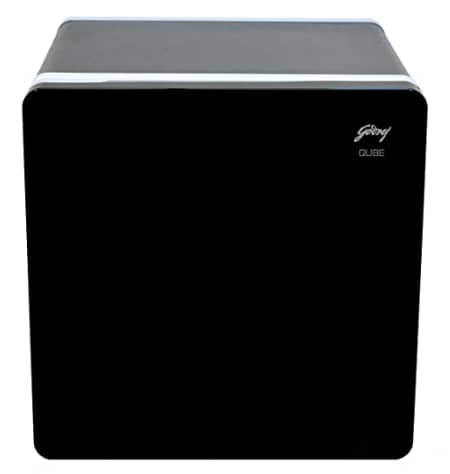 This beautiful piece of art designed and manufactured by Godrej is loved by people who own it. Its matt black finish gives it a luxurious touch and it would definitely stand out. It comes equipped with advanced solid-state technology so that it can deliver energy-efficient cooling. Godrej is regarded for being environmentally friendly, and this product exemplifies that. The Qube 30L has no compressor and is completely free of refrigerants, so you don't have to worry about your carbon footprint.
This small refrigerator can be used in any setting, be it in your bedroom, living room or office, as this does not produce any noise due to the absence of a compressor. Godrej 30 L ensures your night visits to the fridge are properly illuminated with dual LED lights in the interior. If you buy this product, you are getting the Godrej guarantee and their years of expertise in manufacturing electronic products for people.
What I liked
It's easy to clean and maintain.
It does not make any noise, ensuring silent operation.
Environmentally friendly.
Capable of running on invertors.
It's very spacious, given it is a small size fridge.
7. LG Mini Refrigerator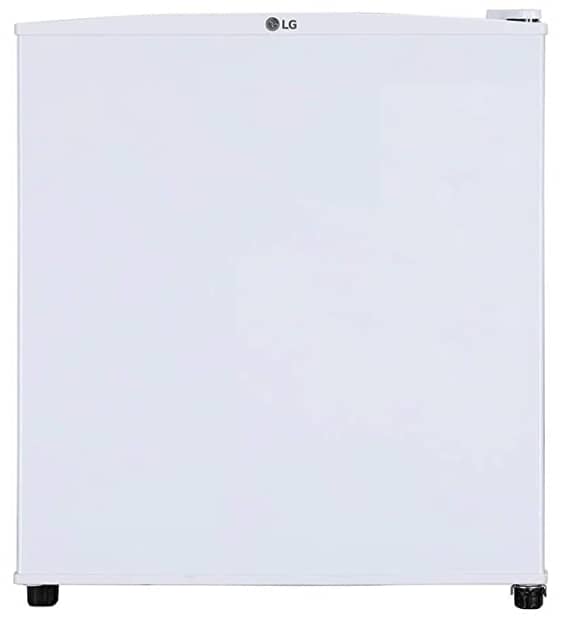 The next one is from LG, and it features a tiny and simple style that blends in with any decor. This single chamber LG mini refrigerator is a minimalist's dream. With racks to fit multiple bottles of water and a shelf on the door, it is perfect for people looking for something with minimum features and people who move frequently. Additionally, this mini fridge does not require any installation from the manufacturer's side as it is very simple to set up.
What we liked
Compact Size
It is easy to set up.
Clean and minimalist design.
8. Midea 45 L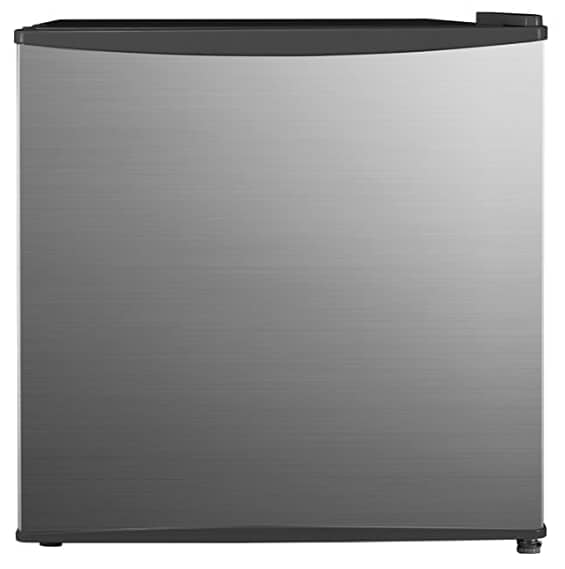 Similar to its bigger brother, the 95 L version, this also comes in a silver colour with a glossy finish giving it a luxurious feel. Standing at 47.2 cm tall, it eliminates the issue of space. Its temperature controller lets you decide the optimal temperature for the food item you decide to store in it. Its smart design and airflow help it uniformly cool the entire interior while maintaining stable temperatures. Equipped with an interior light, it is easy to find the item you are looking for, even in darkness.
Its locking system helps you turn the mini-fridge childproof and secure, and its eco-friendly operation means less carbon footprint. Purchasing this small size fridge means you get a separate chiller compartment for frozen food and a bottle rack that can hold bigger bottles as well.
What we liked
It provides uniform cooling.
Temperature controller.
Included ice trays.
Interior led and door lock
9. LEONARD USA 52 L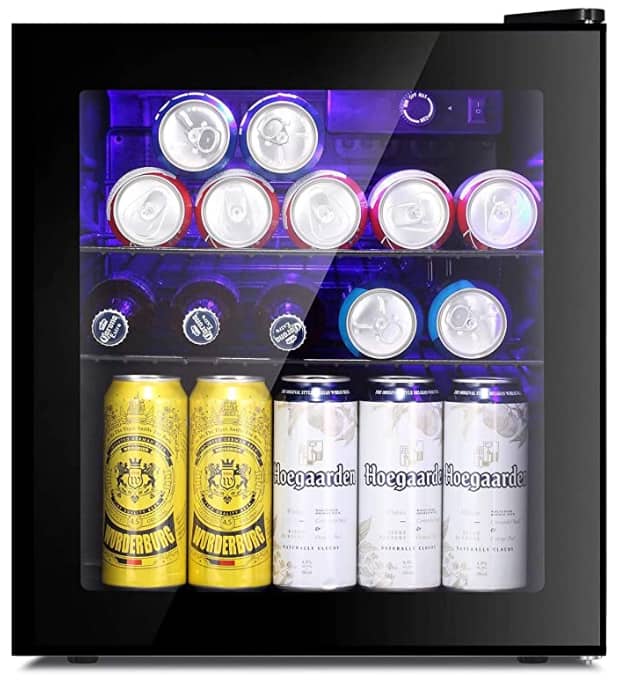 Up next is a 52 litres mini bar fridge from Leonard. They offer a wide range of mini refrigerators which are directly imported from the USA and sold in India. This one, in particular, is advertised to store beer cans, wine and other bottles, but can also be used to store food items as well. It's missing a freezer, but its target audience is people who are looking to store alcohol or other beverages. Their air-cooled frost-free system makes sure your beverages don't freeze and stay in the best possible condition.
If you are a wine enthusiast, then it's the product for you as it stops light from entering the cabinet and helps the wine age better and provides the optimal temperature for storage. Additionally, its double-layered toughened glass makes sure the inside stays cool and even with high temperatures outside, which makes it the perfect product for the Indian climate.
What we liked
Its internal blue light makes it aesthetically pleasing.
The multilayer shelves make it easier to take things in and out of the fridge.
Its adjustable legs give it enough height so that you don't accidentally stub your toe or any other thing and scratch the paint.
Its transparent glass door makes it look unique.
10. Midea 95 L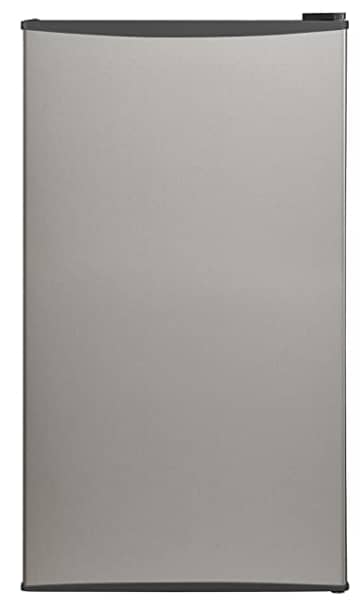 Coming in fifth place is the single door small size fridge from Midea is 36 cm tall. It is designed to tolerate power fluctuations and operates without a stabiliser, reducing its weight and making it more portable. It may be a mini-fridge, but its adjustable legs allow you to choose how tall it stands. Its functionality is tripled, thanks to the reversible doors which make it accessible from multiple directions. It has multiple shelves, making it easy to keep food separately and giving everything a neat appearance. Furthermore, unlike most products in the price range, this fridge offers a freezer as well.
What we liked
Mostly at this small fridge price, you don't get a freezer in the mini-fridge.
Door lock
Adjustable feet
Reversible door
How do you choose the right product for you?
Buying a portable fridge might sound simple enough, but choosing the right one for your needs can be a little tricky. There are a few parameters you can consider before buying a fridge. To make your life, a lot easier here is a guide to choosing the right product.
Quantity of food
You must consider the amount of food you are going to store.
Is it for 1 adult? Or more than that!
Where a small size fridge would be enough for 1 adult, you will struggle to store food for 2 or more people. Additionally, to maintain the good condition of the fridge, you should not overcrowd it.
Price
The next step is to figure out how much you are willing to spend on the fridge. The mini refrigerator price may define the number of features you may get in the product. The prices for mini-fridges are generally lower than the large ones, but some mini-fridges are loaded with essential features as well.
Energy Ratings
Like any other electronic product, your fridge also consumes electricity. An optimised refrigerator will consume less electricity and will reduce your electricity bill, whereas a bad one will increase it. A great way to assess energy efficiency on an electronic product is to check for the energy ratings. The more stars your product has, the more efficient it is in saving electricity.
Features
Anyone looking to purchase a fridge has a few expectations from it. There might be a peculiar feature you are looking for, like a vegetable box or an ice tray. So, check if the small refrigerator has those features.
Warranty
Every machine has a shelf life, and it lowers the longer you use it. And no one can predict what may go wrong with a machine down the line. So it is good practice to choose a product with a higher warranty period so that if something goes wrong with the machine, you can get it fixed by the manufacturer.
FAQs related to mini-fridges
Which is the best mini-fridge brand in India?
Answer: According to multiple reviews on various platforms LG, Godrej and Hisense are the best mini fridge brands in India. In the last few years, the number of sales for these brands fave increased significantly.
Can I use a mini-fridge in my car?
Yes, you can use a mini-fridge in your car, given there is enough space and power supply that can power the fridge. There are several products available on Amazon that can fit in your car.
Which are the best mini-fridges for home?
When it comes to mini-fridges there is a library of options available in the market. But here are the best ones-
Hisense Mini fridge
Godrej 30 L
LG Mini Refrigerator
Midea 95 L
LEONARD USA 52 L
Kelvinator Mini Refrigerator
LG Mini refrigerator
AmazonBasics 43 L
Midea 45 L
Hisense 93 L
Can I get a mini-fridge under 5000?
Yes, you can get a mini-refrigerator for under 5000 Rs. When it comes to mini-fridges there are a lot of options available on Amazon and other platforms, Elnixa Mini Car Refrigerator is a great option.
Should I buy a mini-fridge?
Mini-fridge serves a separate purpose from large ones, mini-fridges are best suited for small spaces, cars, restaurants, retail outlets, etc.
What is the capacity of a mini-fridge?
The capacity of a mini-fridge varies according to the brand and the model. You may find some with 30 letter capacity and may also find some with 100 litres. Companies design these for a specific target audience.
Chances are you will come across a lot of products while you look for the best one for yourself. I hope one of the products on this list is the one you are going for. Additionally, before buying, don't forget about the parameters that will help you determine the best one. And in case you have changed your mind and would want to buy a large refrigerator, we have a list for that too.
Tags: Top 10 Best Mini Refrigerator (Fridges) In India 2022, 10 Best Mini Refrigerator (Fridges) In India 2022, Top 10 Mini Refrigerator (Fridges) In India 2022, List of Top 10 Best Mini Refrigerator (Fridges) In India 2022