Top 10 Best Digital Marketing Books In The World 2022 : Digital marketing is a booming industry and as expected people are flocking to it like hungry crows. But the main obstacle they face during their journey toward the top is a lack of knowing where to start? or how to start learning? Books have always been the best way of learning and sharing knowledge. That is why this article will take you over the best digital marketing books that you can buy and start learning.
Top 10 Digital Marketing Books In The World 2022
So, here is the list of 13 digital marketing books to take your skills to the next level.
| | | | | |
| --- | --- | --- | --- | --- |
| S no. | Best digital marketing books | Short Description | Author | Rating on Amazon |
| 1 | MARKETING MADE SIMPLE | A Step-by-Step StoryBrand Guide for Any Business. | Donal Miller withDr JJ Peterson | 4.8/ 5 |
| 2 | Traffic Secrets | The Underground Playbook for Filling Your Websites and Funnels with Your Dream Customers. | Russel Brunson | 4.7/ 5 |
| 3 | Jab, Jab, Jab, Right Hook | How to Tell Your Story in a Noisy Social World | Gary Vaynerchuk | 4.6/ 5 |
| 4 | Building a StoryBrand | Clarify Your Message So Customers Will Listen. | Donald Miller | 4.6/5 |
| 5 | Hooked | How to Build Habit-Forming Products. | Nir Eyal with Rayan Hoover | 4.6/5 |
| 6 | Expert Secrets | The Underground Playbook to Find Your Message, Build a Tribe, and Change the World. | Russell Brunson | 4.6/5 |
| 7 | Hacking Growth | How Today's Fastest-Growing Companies Drive Breakout Success | Sean Ellis & Morgan Brown | 4.6/5 |
| 8 | Contagious | Why Things Catch On | Jonah Berger | 4.6/5 |
| 9 | Hit Makers | The Science of Popularity in an Age of Distraction | Derek Thompson | 4.5/5 |
| 10 | Everybody Writes | Your Go-To Guide to Creating Ridiculously Good Content | Ann Handley | 4.5/5 |
10 Best Digital Marketing Books In The World 2022
1. MARKETING MADE SIMPLE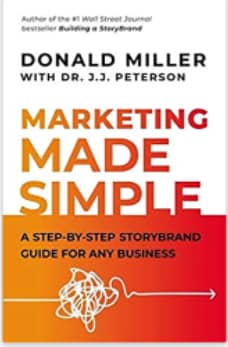 Coming in at the top is "Marketing made simple"(in other words, digital marketing for dummies) by Donald Miller. Born in 1971, he is a public speaker and business owner. Being the CEO of a marketing company, the author has shared insights from real-world experiences he had during he worked in the company. The book takes you through the process of creating an effective sales funnel that will bring in the most conversions.
I don't want to spoil anything, but the author talks about the five essential marketing components you need to attract more customers to your business. And once you have got the customers, the book also talks about how to build a strong relationship with them. Following the instructions from this book will definitely help you create a solid marketing strategy for your own business or upgrade your skills to advance your career through the digital marketing course book.
Things you will learn from this book
Build and maintain relationships with your customers
Create a solid marketing strategy
Come up with a company slogan
Structure your website
Build a lead generator
Create a nurture campaign
Create a sales campaign
Get the most out of your email campaign
2. Traffic Secrets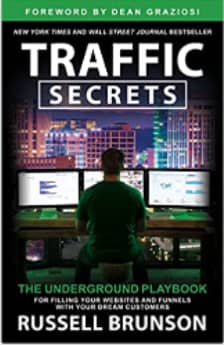 Traffic Secrets, as the name suggests, this book reveals all the secrets to getting the most traffic to your website and it is also considered one of the best social media marketing books. The author, Russel Brunson, developed his first online company while he was still in college. And if that wasn't enough, he sold more than a million dollars worth of products within a year of his graduation. So, what was he doing right? That is exactly what this book is about.
Starting with the most vital mode of generating traffic, social media! Russel Brunson's Traffic Secrets helps you master all the social media platforms like Facebook, Instagram, Twitter and LinkedIn. The book helps you understand how you can use the powers of social media in this digital world to attract the maximum amount of customers to your brand. Additionally, this book teaches you how to make yourself easily discoverable on the internet.
Things you will learn from this book
This book separates all the myths from the truth.
Create relevant content for your target audience.
Find your niche in the market.
Master social media platforms.
Get more organic traffic.
3. Jab, Jab, Jab, Right Hook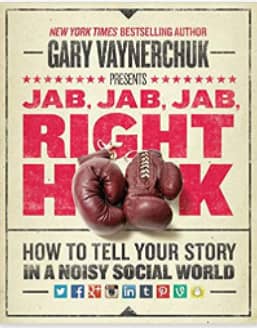 If you are looking for great social media marketing books, this one will definitely live up to the hype surrounding it. With an interesting name, this book has gained a lot of traction in the digital marketing community around the globe. In the title, the "Jab" means the content your brand puts out to make your audience laugh, snigger, contemplate and feel appreciated. And the "Hook" means a call to action that benefits your brand.
According to most critiques, this social media book will take you from being a noob to a pro in no time. Furthermore, this book has over 80 detailed case studies from Facebook, Instagram, Twitter and Pinterest. If you want to craft a successful career in social media marketing, then this book is for you.
Things you will learn from this book
Approach different social media platforms for the best results possible.
Social media is the best marketing method.
What does Facebook consider quality content.
Twitter is more about the context rather than the content.
4. Building a StoryBrand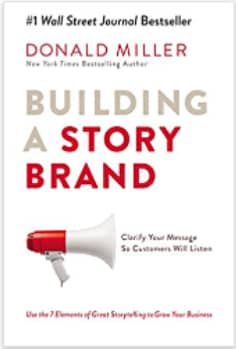 Do you aspire to be a great copywriter/content writer?
Do you want to improve your SEO skills?
Or have you been looking for the best SEO books?
If the answer to these questions is yes, then you are at the right place. From the author Donald Miller, a second book has made it to this list. This SEO book helps you improve the way you communicate with your audience or customers and make it easier for them to understand what you have to offer or why you would be the best choice. The best marketers and copywriters have taken inspiration and knowledge from this book to produce their best work.
Building a StoryBrand gives you a thorough knowledge of how you can convey your brand's story to the public. Additionally, this SEO book provides a mix of very rich and detailed learning experiences.
Things you will learn from this book
Use a story to clearly convey your message.
Make your customers the centre of attention and guide them toward your brand.
Understand what your customer needs.
Identify your target audience.
Come up with your business's tagline/slogan.
5. Hooked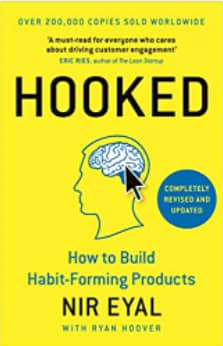 Have you ever wondered, why people keep buying products from the same brand when there are other options available. This book from Nir Eyal, speaks about that exact thing. It's an excellent choice for business owners, marketers and product managers alike. This digital marketing course book talks about how you can influence your audience into building a habit of using your products or services regularly. This book helps you understand to market your products so that you don't have to rely on ads to give your product visibility.
To understand customer behaviour you have to understand the triggers that help them make decisions in the first place. Hooked goes into detail about the four main types of triggers. Additionally, this book helps you create a strategy to market your product in the best possible way.
Things you will learn from this book
Create instinctive user engagement with habits
Role triggers play when initiating actions from the customers
Identify how your product can help the customers
How to motivate people to buy your products?
How can you influence customer decisions?
6. Expert Secrets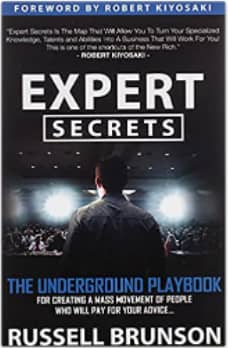 A second entry from Russel Brunson, from creating a successful SaaS (Software as a service) company that helps you increase your revenue to writing best-selling best digital marketing books that help marketers take their careers to the next level. Russel has created his own loyal fan base, which the book is all about. Published in 2017, this book still manages to stay relevant as the core message works perfectly in today's market.
As mentioned before this book talks about how to create and maintain a loyal fanbase to sell products and services to them. If you aspire to be an influencer, marketer or even an entrepreneur, this book will help you reach that goal. Especially if are looking to take your business online. Additionally, this book will help you find your niche and perfect it.
Things you will learn from this book
Find your audience
Clearly convey your company's vision to the public
Solve the problems your customers might have
Build trust and credibility
Make your audience engage with your product
7. Hacking Growth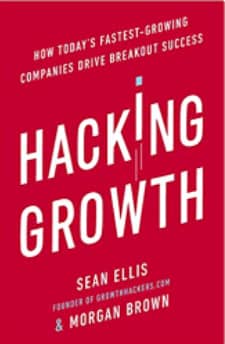 The author encourages constant experimentation for growth and talks about the four levels of growth, acquisition, activation, retention and monetization. All four are very essential for any company to grow and expand its business. Reading this book will benefit a wide range of people but most essentially the marketers, product managers or anyone who wants to dip their toes into digital marketing.
The author Sean Ellis, is an entrepreneur, angel investor and start-up advisor among many things. Apart from writing the best digital marketing books, he shares his years of expertise in helping companies grow both digitally and physically. He talks about how most companies are failing to overcome the obstacle of teamwork within different departments. Additionally, it helps you determine your product's importance to the customers and how you can improve it.
Things you will learn from this book
Improve inter-departmental collaboration for growth
Determine if your product is relevant to the customers?
Identify what to focus on for maximum growth?
Growth hacking cycle.
How you can use the growth hacking cycle.
8. Contagious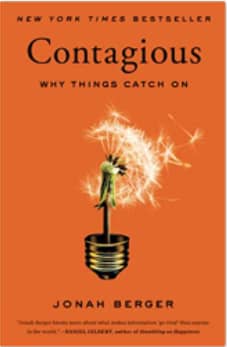 This book talks about a very interesting form of marketing that involves social media and how it gives birth to a completely separate form of marketing. Social media marketers, entrepreneurs and anyone who wants to learn more about word of mouth marketing should read this book. It talks about how to make your content, product and ideas spread like wildfire through your audience.
So, what makes this one of the best social media books?
The author brings up a very interesting fact about social media and content. People love sharing stories, news and information both online and offline which helps motivate others to buy your products and services. And this has been proven to work better than the traditional way of marketing. Furthermore, this book explains how word of mouth marketing works and why it is so effective.
Things you will learn from this book
Role of social currency play in word mouth marketing.
How do triggers help spread information about your brand?
Relatable content helps word mouth marketing.
Produce viral content.
Provide practical content to your audience.
Create stories and not advertisements.
9. Hit Makers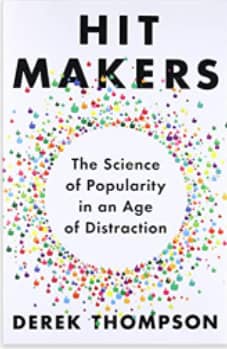 Do want to find out why some social media posts go viral?
Or why the Mona Lisa is so famous?
Then read this book!
The author of the book tries to explain why things become popular, is there any science behind it or its just dumb luck. If you are trying to master social media, this book will help you become the master of social media marketing. According to the readers, this book takes an interesting approach to understand the science behind going viral.
Thompson a journalist, has a very comfortable writing style and gives occasional anecdotes, which makes it a must-read. This book is perfect for social media marketers or someone looking to start a career on social media. Apart from being one of the greatest social media marketing books it also has a very interesting storyline.
Things you will learn from this book
Why and how do things go viral?
What works on social media?
How has social media made certain people famous?
10. Everybody Writes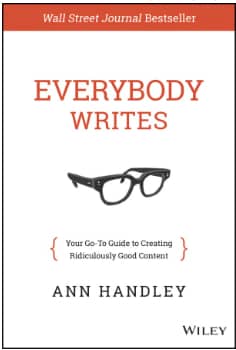 Here is a book for all the content writers, SEO writers and all sorts of writers out there. If you are looking for a great SEO book, there is nothing better than Everybody writes. The author of the book Ann Handley has produced not one but two New York best sellers and both are about content. She is also the chief content officer at Marketing Profs. So you can be sure that all the advice are tried and tested by her over the years.
If you aspire to be a decent enough writer, this book should be among the top 5 on your list. Reading this book will give you an in-depth knowledge of how you can write content that brings in money. You will find a lot of anecdotes about writing as well as her views on several claims around writing in general. For instance, she challenges the claim that you have to be a good storyteller in order to be a good writer, whereas she believes that telling a true story well is the sign of a good writer.
Things you will learn from this book
Research for your content
Writing tools should you be using
Generate blog ideas
How can you source images
Chances are you have come across a lot of digital marketing books or PPC books but choosing the right one can make a world of difference. So make sure you figure out what you want out of a book before buying one. Additionally, if you want to learn about 10 websites to buy books in India, we have got that too. Happy Reading!
Tags: Top 10 Best Digital Marketing Books In The World 2022, 10 Best Digital Marketing Books In The World 2022, Top 10 Digital Marketing Books In The World 2022, List of Top 10 Best Digital Marketing Books In The World 2022