Top 10 Best Hair Straighteners In India 2022 : Silky straight hair can be paired up with a saree, lehenga or a little black dress to make any girl look drop-dead gorgeous. But, not all are lucky enough to be blessed with super straight hair. It is now easy to straighten your curly or wavy hair at the comfort of your home by investing in a high-quality hair straightener. These hair straighteners can save you both time and money spent on making regular appointments at the beauty salons.
If you are planning to buy this hair styling tool, then we can help in finding the perfect one. Our curated list of top 10 hair straighteners in India featuring some of the best-selling and top-rated products will help you sport a salon-like hairstyle every time you step out.
Top 10 Hair Straighteners In India 2022
10 Best Hair Straighteners In India 2022
1. Philips HP8302 Essential Selfie Straightener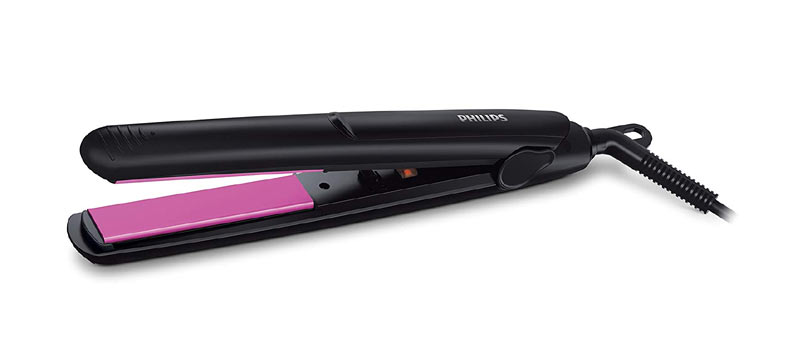 Women around the globe love the hair straighteners from Philips, as they are backed by safe and advanced technology. This selfie hair straightener, which is 1st on our list, sports a lightweight body that makes it easy to handle. Backed by SilkPro Care technology, this hair styling tool with infused ceramic plates glides through your strands with minimal friction while assuring low heat exposure.
This hair straightener with an LED indicator works with an optimal temperature of 210° C to achieve straight hair. The instant heat up feature helps you to use it in just 60 seconds. The heat-safe cord of 1.6 m supported by swivel cord technology assures optimum flexibility while using it.
Pros
Lightweight and easy to use
Economical to buy
Regulated movement
Cons
Not for long hairs
Effective for only 3-4 hours
Small plates
Price: Rs. 1294
2. VEGA 3 in 1 Hair Styler – Straightener, Curler and Crimper (VHSCC-01)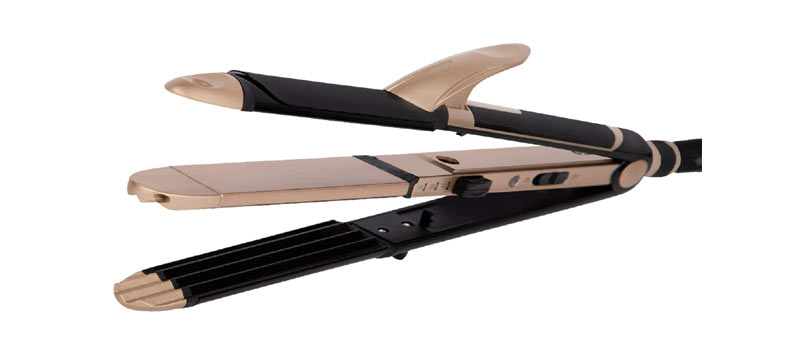 If you love to experiment with a different hairstyle each day, then this 3-in-1 hair styling tool from the house of Vega is your best mate. It is now simple to crimp, curl and straighten your hair without having to worry about damage. The crimper and straightener plates coated with ceramic are efficient enough to create luscious hairstyles with great texture while not causing any hair damage.
This Vega hair straightener has one styling switch to lock the preferred hairstyle and a sliding On/Off switch to enhance user experience. The 360-degree swivel cord helps you style your hair in a hassle-free fashion.
Pros
2-years of manufacturing warranty
Ceramic heating surface material
Corded electric type hair styler
Easy locking system for hair safety
Crimper plates with 3-ridge design
Cons
Cannot adjust the temperature
Lack of gripping options
Price: Rs. 1367
3. Philips HP8316/00 Kerashine Hair Straightener With Keratin Ceramic Coating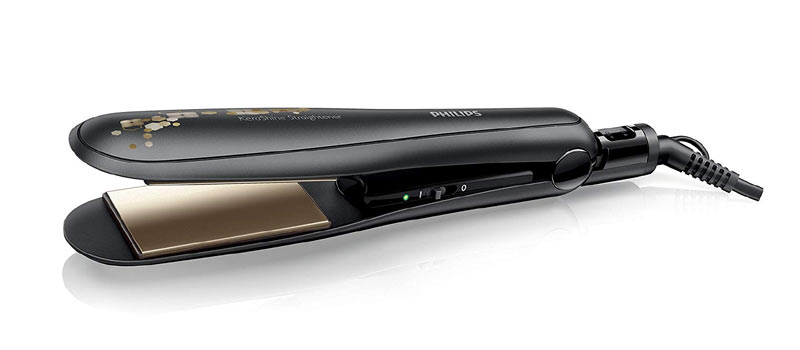 Beauties with thick and long hair should go for this Kerashine hair straightener from Philips, as it is designed with large plates to prevent damage while styling. It is equipped with ionic technology that conditions hair by releasing negatively charged ions to prevent frizz and static hair.
This Philips hair straightener is capable of smoothing the cuticles of hair while improving sheen and gloss. The keratin-infused plates coated with ceramic assure salon-like hair within a few minutes. This hair styling tool is offered with a heat-safe cord of 1.8 m to style hair at any angle.
Pros
Swivel cord technology
Extra wide plates for thick and long hair
210°C of professional temperature
Ionic conditioning for glossy look
Automatic shut-off features prevents hair damage
Cons
Excess heating levels
Packing issues
Price: Rs. 2484
4. Philips Hp8318/00 Kerashine Temperature Control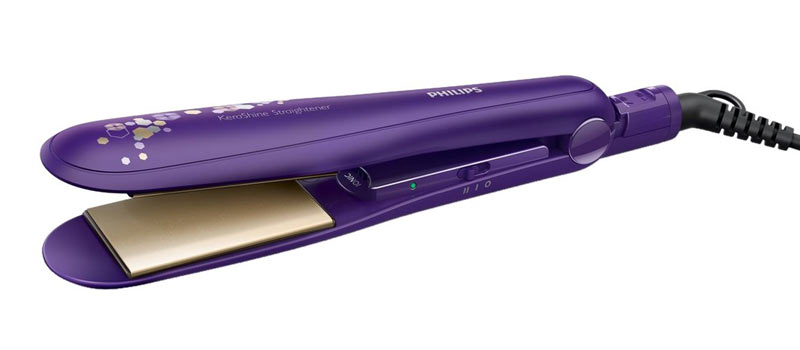 Kerashine range of hair straighteners arriving from the home of Philips is touted to offer salon-like straight hair, as they have advanced features and ionic technology to take care of heat damage woes. We have included this hair straightener with keratin-infused ceramic plates on our list of best 10, as it can style your hair by eliminating static and frizz issues with its unique ionic technology.
Its SilkPro Care technology ensures each hair shaft remains strong and smooth with less heat exposure. The Instaheat feature makes this Philips product ready to use in 60 seconds. Plus, it can straighten your hair with 210° C as its optimal temperature.
Pros
Even heat distribution
Ultra-smooth gliding option
Eliminates static and frizzy hair
Keratin infused ceramic plates
Variable temperature controller
Perfect choice for women with thick and long hair
Cons
Price: Rs. 2995
5. Nova NHS 860 Temperature Control Professional Hair Straightener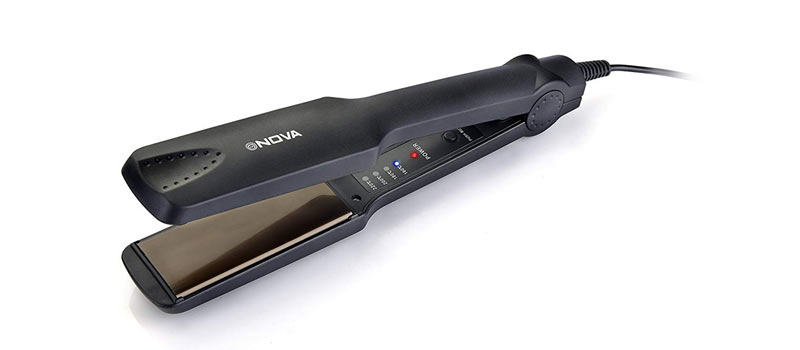 If you want perfect looking hair while leaving for work each day, then Nova hair straightener should be your styling partner. With a 30-second quick heat up time, this device can take care of your curly or wavy hair in no time. The ceramic coating on the titanium plates prevents the hair straightener from sticking to the strand.
This hair styling tool comes with Nanosilver technology that makes it a perfect choice for styling wet hair. The digital temperature control helps it to shut off once it heats up to the desired temperature. The variable heat settings let it operate with the temperature ranging from 160° C to 220° C.
Pros
Rapid heating technology
Swivel cord for better flexibility
Cool tip with curling edges
Top-quality ceramic coated plates
Suitable for silky smooth straight hair
Cons
Poor warranty services
No locking option for ceramic plates
Price: Rs. 2395
6. Kemei KM-329 Professional Hair Straightener 40W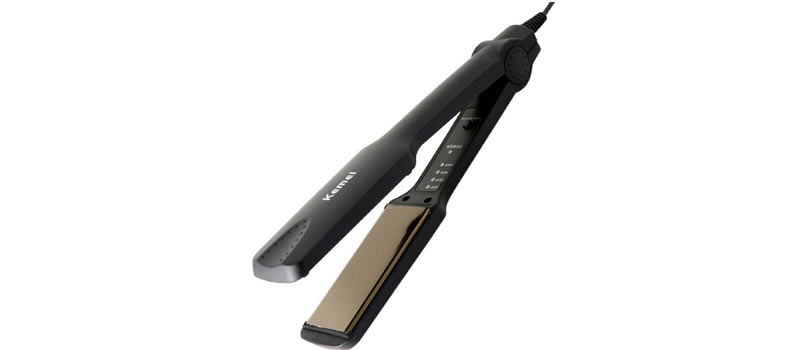 Sporting poker-straight hair without blow-drying is now possible when you own the Kemei Professional Hair Straightener. It doesn't matter how frizzy your tresses are, this lightweight device can tame it with 4 different temperature control levels. It just takes 30 seconds to heat and the LED light indicates when the power is On/Off.
This hair straightener is powered by ThermoBalance technology that safeguards your hair while straightening. The ceramic coated floating plates are wide enough to handle several strands at once. The auto shut off feature prevents issues like overheating. The temperature range of this styling device is 160° C to 220° C.
Pros
4-level temperature controller
Comes at low prices
Best straightener for moisture retention
30-seconds of fast heating mechanism
Suitable for both dry and wet hair
Features splint, LED light, and temperature display
Cons
Not suitable for curly thick hair
Price: Rs. 365
7. Havells HS4101 Hair Straightener with Ceramic coated plates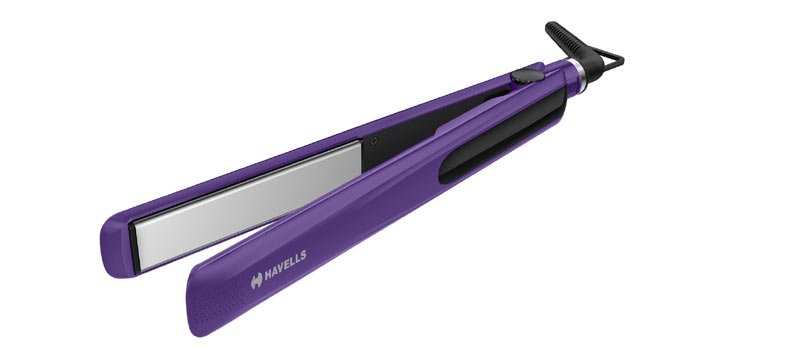 This hair straightener from the renowned brand, Havells is the right solution to put an end to your bad hair days. It is the perfect tool to achieve flowy curls, voluminous hairdos or shiny straight hair. The high-quality ceramic coated plates spread the heat up to 210° C evenly to glide through the hair smoothly.
With a dimension of 25 x 120 mm, the ceramic plates of the hair straightener remove the pressure off the hair while avoiding hair breakage. This hair straightening device is designed with plates to lock system to store it safely while not in use or during travel.
Pros
Advanced PTC heating element
2years of warranty services
Ceramic floating plates
Plate locking system
Straightening lasts for 3-4days
Cons
Price: Rs. 1025
8. Philips BHS386 Kera Shine Straightener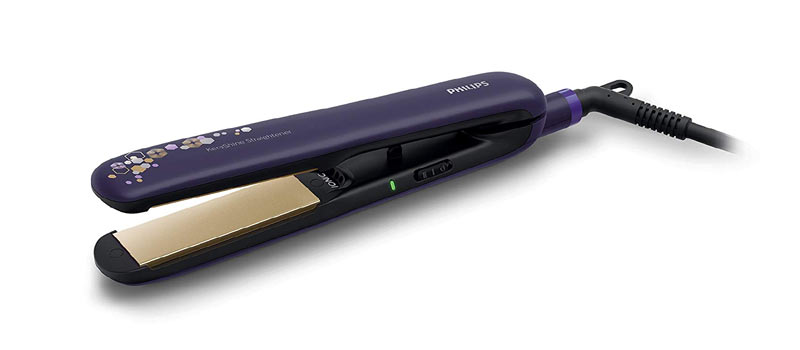 It is easier to achieve straight hair at home when you own the KeraShine hair straightener from the house of Philips. Its SilkPro Care technology makes it glide smoothly with maximum temperature and minimum heat exposure sans any friction. The device is capable of delivering salon-like results with its ceramic plates infused with Keratin.
The variable temperature setting of the hair straightener lets you set the heat ranging from 190° C to 210° C based on your styling preferences. Equipped with ionic care technology, the device can be used after heating it only for a minute. Enjoy maximum flexibility with its 1.6 m safe cord.
Pros
Ideal for small, medium, and long hairs
2 styling temperature settings
2years warranty from Philips brand
Long plates for fast hair straightening
Keratin infused ceramic plates
Travel-friendly hair straightener
Cons
Bit expensive to buy
Absence of heat regulator
Price: Rs. 2395
9. VEGA Adore Hair Straightener (VHSH-18)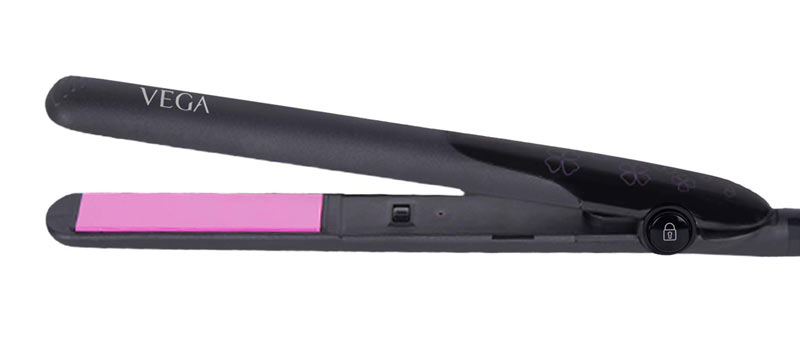 Pamper your mane from root to tip by styling it with the Vega hair straightener that can deliver glossy straight hair in a few minutes. With a quick heat time of just 60 seconds, this device is the right find for working professionals.
This compact-sized hair straightener is offered with a lock system to stash it away safely after use. Its wide plate of 23 mm x 85 mm is coated with a ceramic to prevent uneven heating. The hair straightener comes with a swivel cord that can rotate 360 degrees for safe straightening. Plus, it has power indicating light and 200° C as its optimum temperature.
Pros
Corded electric type hair straightener
1.8meter of power cord length
Stylish and compact design
360 swivel cord and easy locking system
Prevents from unnecessary hair tangles
Cons
No return option
Can damage quickly
Price: Rs. 799
10. Nova Ceramic Coating Hair Straightener and Curler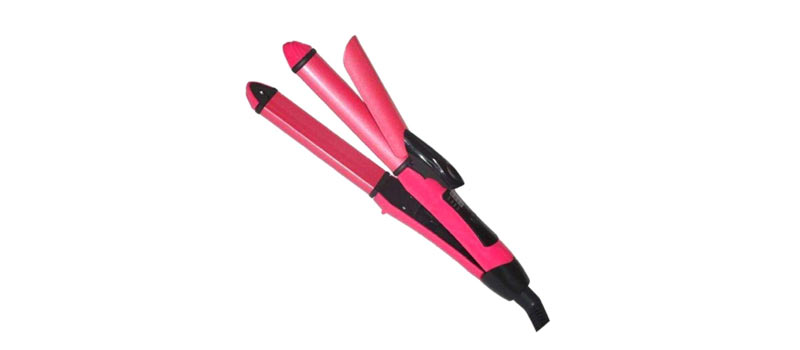 If you love to curl or straighten your short hair, then the Nova hair straightener and curler is the best choice. This hairstyling device flaunts a sporty look in pink and fits in your travel bag perfectly. The patented ceramic coated plates straighten hair by gliding without any friction while avoiding any snags or damages. The swivel cord of 1.8 m is long enough to enjoy a seamless straightening experience.
The hair straightener is designed to function within a temperature range of 90° C to 140° C. The device will be ready after a 30-second heat up. The One-click technology to change the attachments and cool tip for safety deserve a special mention.
Pros
Features heat balance technology
Stylish and ergonomic design
1 year of manufacturing warranty
Floating plates for even hair styling
Long swivel cord for greater flexibility
Cons
Not suitable for tight curls
Can cause skin irritations
Price: Rs. 349
Conclusion
Wrapping up, our top pick from the list is Philips Hair Straightener. It has all the essential features that a styler should have, like ceramic coated plates, swivel cord, and 1.6meter of power cord length, making it suitable for short-haired women. Besides, the Philips brand offers a 2years manufacturing warranty on the product. So, you do not have to invest more in repairs. With this, we conclude our round-up of the perfect hair straighteners available online. Choose the best one based on your hair type to get flawless straightening results.
You go girl and flaunt those luscious locks!
Tags: Top 10 Best Hair Straighteners In India 2022, 10 Best Hair Straighteners In India 2022, Top 10 Hair Straighteners In India 2022, List of Top 10 Best Hair Straighteners In India 2022